The Best Dropshipping Clothing Suppliers
Choosing a reliable, high-quality supplier is important to the success of your business. Being sure you've found the best dropship clothing suppliers can make or break any company's operation! Your fashion brand and clothing store depend on a good working relationship with your suppliers so you must get this right at the beginning.
Why Dropship Clothing?
According to Statista.com the clothing industry is big business. They say consumer spending globally for clothing and footwear in 2021 was 2.03 trillion U.S. dollars. They forecast for spending on clothing and footwear to rise to almost 2.6 trillion U.S. dollars by 2025.
Therefore, this huge market is a big attraction to anyone wanting to setup a clothing store online. Additionally, the demand for clothing is only going to grow for the foreseeable future.
One of the problems when starting out with a clothing store is the large quantity of clothing items required.
For example, you could have one item of clothing in 5 sizes, plus additional stock depending on the volume of sales. Now let's say you sell 10 items per week. Theoretically you could have to stock up to 50 pieces of clothing of one product line. And you have to do the same for every item in the store. You can see that your stock costs add up to a lot of money very quickly.
As a result, the high cost of stock required to open a clothing store was traditionally restricted to few people, or you had limited products, or you were forced to sell low priced items just to get started in business.
For that reason, making use of Dropship Clothing Suppliers eliminates the up-front cost and the potentially larger costs of premises or warehousing to store and fulfil all the stock and orders.
Using a wholesaler or supplier who will dropship orders direct to your customer has huge advantages. You don't need to hold any stock and no need for large premises. You easily add your suppliers product to your online store, then when you make a sale, you simply order the product from your dropship clothing supplier. They then ship the product to your customer on your behalf.
How To Find Dropshipping Clothing Suppliers?
Finding dropship clothing suppliers online is fairly easy. Nonetheless it is time consuming having to trawl across hundreds of sites online. Not only that but you then have to make sure each supplier is reputable and provides the services you want.
To save you time and hassle I've put together this list of clothing suppliers for your benefit. Then if that's not enough I've detailed below some dropship search terms you can use to help with your search.
Shopify Dropshipping Clothing Suppliers
Nearly all the suppliers listed below can be used with shopify. Some have direct integration with shopify to make your life easier. Even if there's no direct integration it's easy to upload a CSV list of products into shopify and most of them will provide the product list if you ask them.
I've compiled this list of the top 10 dropshipping clothing suppliers to help speed up your search for suppliers. They are not listed in any order because I find that they all offer great services and will add value to your business. However, there's no one supplier who can fulfill every need!
Take time out to visit them all – this page will get updated again soon with more info about these and more amazing dropship companies.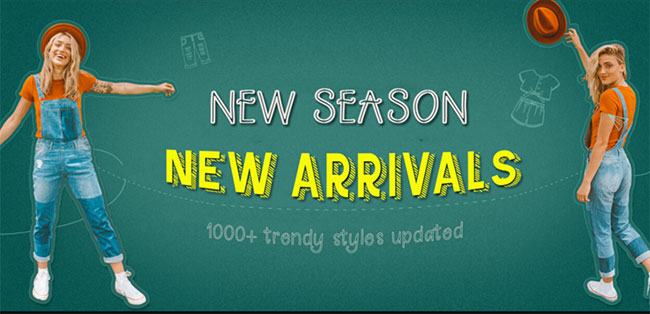 Dropship Clothing Supplier's Marketplace
FashionTIY is a wholesale and dropship clothing supplier's marketplace. It's made up of many individual suppliers all operating from one website operation. They offer the widest range of clothing and fashion products for all categories. This includes Women's clothing, Men's clothing, Children's clothing, Kids Clothing and Baby clothes as well as clothing and fashion accessories. They have a wide range of fashions and styles available in all clothing categories. You may have to make relationships and order from several smaller suppliers when using this platform.
---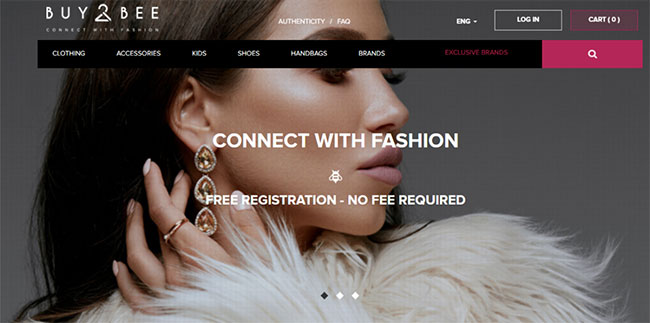 Dropship Supplier of Men's Women's & Children's Clothing
Buy2Bee prides itself on supplying authentic brands. So, if you're looking for genuine authentic brands with unique design and style then buy2Bee is for you. They're a wholesale and dropship clothing supplier with fulfilment warehouses in Milan Italy and Los Angeles California. They offer a wide range of Men's, Women's and Children's clothes along with accessories, shoes and bags.
---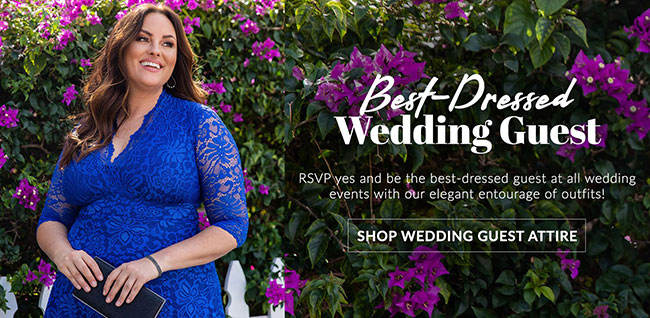 Plus Size Wholesale & Dropship Clothing Supplier
Kiyonna is a supplier of women's plus size clothing. Founded In 1996 by Kim Camarella-Khanbeigi Kiyonna has gone from strength to strength over the years. They believe that plus size women deserved to look and feel stylish and amazing. They have a wide selection of women's clothes however they seem to specialize in dresses, evening gowns and wedding dresses. They have a dropship program as well as wholesale supplies.
Read more about Kiyonna Dropshipping along with all their contact details and social media links.
---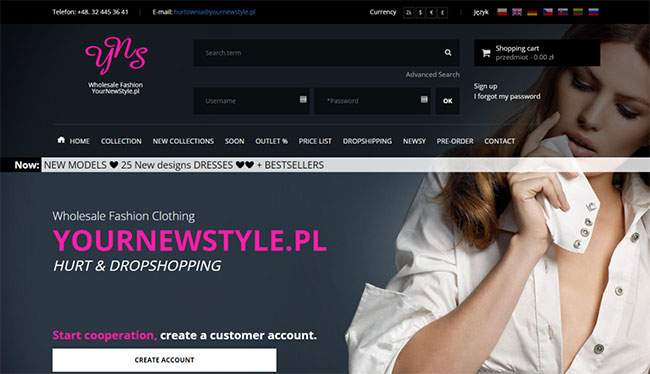 Dropship Clothing from Europe
YourNewStyle is a wholesaler and dropship supplier of women's and men's clothing. They are based in Poland and ship internationally. They have a good selection of branded clothing and a wide range of products. Their largest category is women's dresses. i would say this supplier is more suited to store located in the EU. They also have integration with Shopify, Prestashop and Magento. In addition they provide a product data feed in CSV and XML formats.
---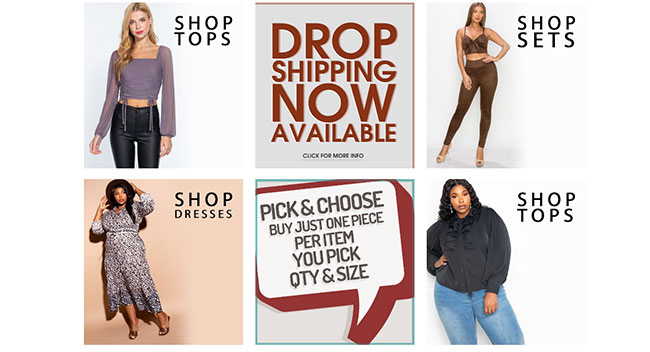 Dropship Clothing from LA

CCWholesaleClothing was established in 2009 and they are based in Los Angeles, CA. Having started by running fashion retail stores CC wholesale feel they have the knowledge to know what customers want. Their main product lines are women's fashion clothing. Together with the regular sizing they also have a plus size clothing category too. In addition, they offer accessories such as handbags, hosiery, lingerie, belts, sunglasses and scarfs. If you're just starting out in your online business, then they have a turnkey website offer which is a quick way to get started.
---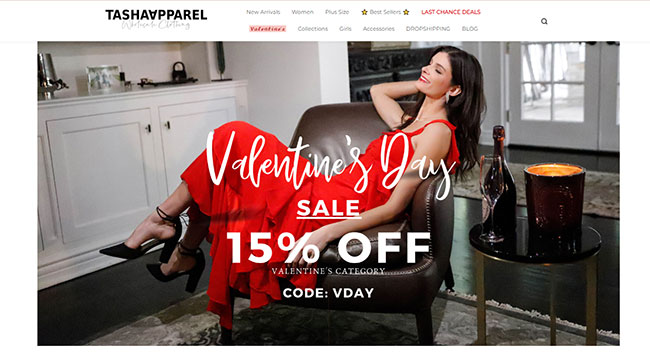 Tasha Dropship Clothing
Tasha Apparel is a dropship clothing supplier that focuses on the latest fashion trends. This is great because on trend products sell very well. However, their product lines change frequently as a result. They have a wide range of women's fashion and include a plus size department. You can choose to buy wholesale in bulk or single items through their dropship program. Fast moving clothing lines sell well through social media so if you have a good following then tashaapparel.com would be a good partner.
---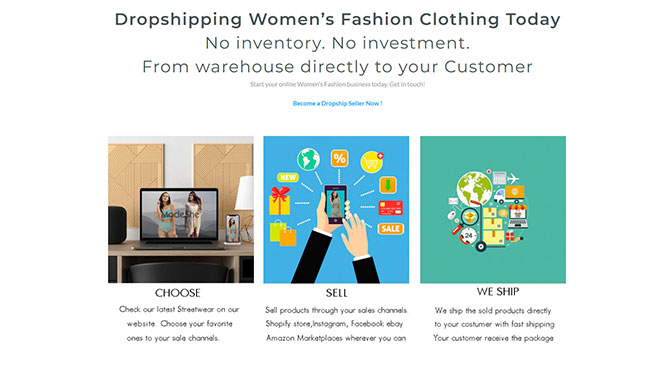 Modeshe Dropshipping Clothing
Modeshe offers women's clothing for the 18 – 34 age range with a focus on the latest trends. They carry a large product selection across all the main clothing categories. You'll easily find dresses, tops, bottoms, plus sizes, accessories, swimwear, lingerie, coats and activewear. They ship internationally and have shipping to The United States and Europe in 9 days with tracking information. As with most dropshippers they also offer wholesale bulk purchasing if you need to fulfil your best sellers yourself.
---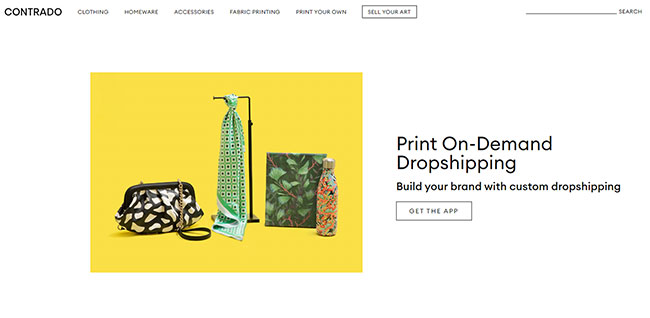 Print On Demand Clothing
Contrado is both a print on demand supplier and a marketplace where you can sell your printed clothing. Another thing that makes Contrado stand out is almost 400 different products that can be printed. This makes them ideal suppliers for designers and artists. They offer all over printing of fabric and help to build your brand with labelling and tagging. Apart from Men's and Women's clothing they will print homeware products such as curtains, blinds, cushions, bags, purses, travel goods, stationary and much more. If you're a shopify user then you can use their app to integrate Contrado production into your store.
---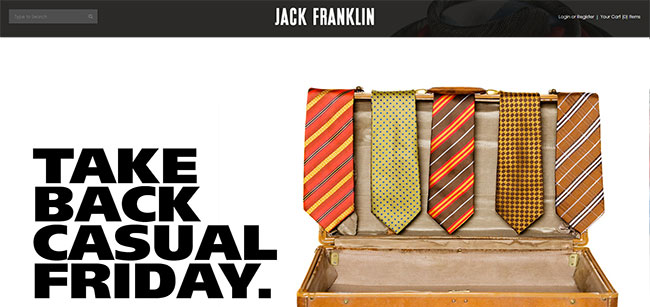 Neck Ties Dropship Supplier
Jack franklin is a true niche dropship supplier. They offer just one product range. Men's neck ties. This product range can make a great example of a single product store. Although there's just one product there are dozens of designs and plenty of blog content covering the history, styles and how to tie various neck-tie knots. You can also add these as an accessory category to an existing menswear store.
---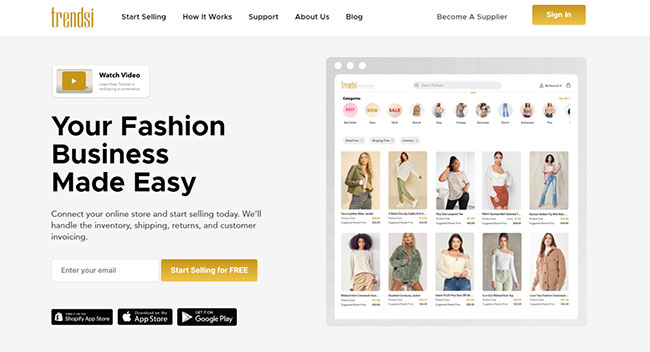 Shopify Dropship Supplier
Trendsi.co is a new breed of dropship clothing supplier. Most start out as wholesalers and add dropshipping as a service. Trendsi has been created from scratch as a dropship supplier to integrate with any Shopify store. all you have to do is connect your Shopify store and you're ready to go. They will manage the inventory, shipping, invoicing and returns. It couldn't be easier. Their product inventory is women's fashion and include household brand names together with all the categories you'd expect. Like dresses, tops, denim, jumpsuits, activewear, bodysuits, cardigans, skirts, T-shirts, accessories and more. Trendsi are a great way to setup a store quickly and easily.
---
Luxury Dropshipping Supplier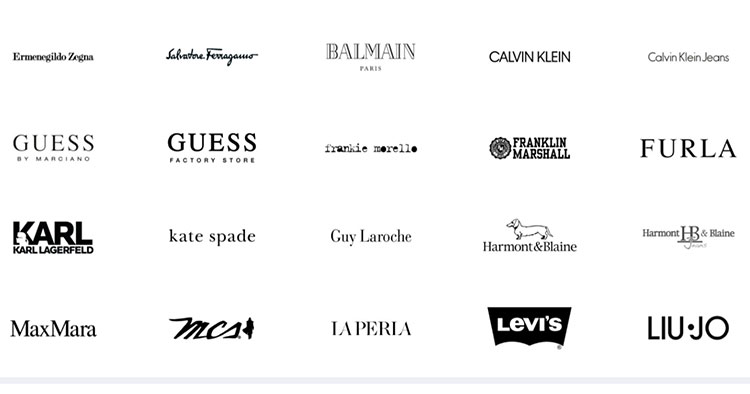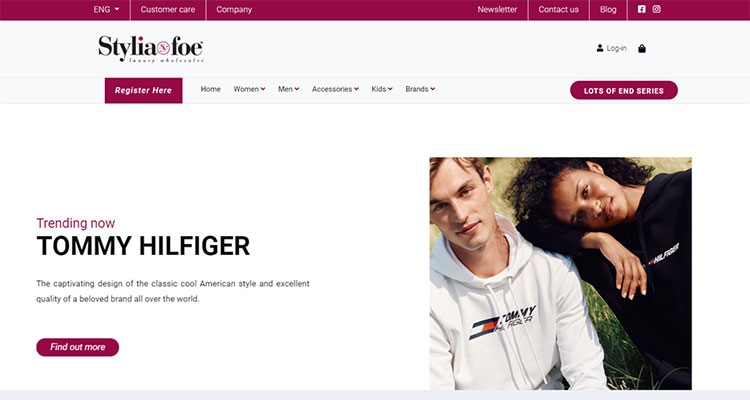 Luxury Clothing Dropshipping Supplier
Styliafoe is a company that sells designer clothing and accessories. Founded in 1994 by Michele Di Leva with his wife Maria Lucilla Dulizia, they have been specializing ever since to bring you the finest brands from around the world at prices anyone can afford!
You'll be sure to find the perfect designer outfit for any occasion. From Armani suits and dresses, Tommy Hilfiger clothing sets or Guess accessories you are guaranteed look amazing in your new threads! They carry luxury brands such as Dolce & Gabbana, Roberto Cavalli , Calvin Klein Lacoste Moschino Versace Jeans with many more on deck.
---
I'll be adding more suppliers on a regular basis, so book mark this page and come back soon for updates and new additions.
Recommend A Wholesale Boutique Clothing Supplier
We're on the lookout for wholesale boutique dropshipping suppliers to add to this list. Specifically fashion, boutique suppliers as opposed to general clothing suppliers. If you know of any then please send us the details using the form below. Thanks.