Doba.com Dropshipping Suppliers
Doba.com The Dropshipping Suppliers Marketplace
Doba.com is a dropshipping marketplace bringing suppliers together from countries across the globe to fulfil products for your store. Having many international dropshipping suppliers all in one place helps to make running an online store so much easier. No more jumping from supplier to supplier to buy products and fulfil orders. It's all done from one central location.
Another thing that makes life easier for the store owner is the choice of integration apps to connect your store directly with the supplier. They offer integration with Amazon, eBay, Shopify, BigCommerce, Woocommerce (WordPress), Wix, Walmart, Newegg, Square, and Shift4shop (Formally 3Dcart). In addition they have the retailer API for any stores which require custom integration.
What Products Do Doba.com Offer?
Doba don't offer products directly themselves. They are the connection to the suppliers. As a result you will have access to a catalog of millions of products. You simply browse the catalog and add them to your store from your Doba account. When you make a sale the order is sent directly to the supplier for fulfillment.
What Are The Shipping Times?
The shipping times will vary depending on the supplier of each product. You can see the handling, shipping and shipping costs on each item.
Is There A Fee to Use Doba?
Yes there's a monthly fee. They have a free option which allows you to try the service. The free option offers a choice of 1000 items with 100 products a month export count. With this option you have to add the products to your store manually. However it's a great way to make a start and see how the system works.
Next they have a "Business option" at $29.99 per month if paid annually and $49.99 if paid monthly. With this option you can integrate up to 5 different stores with up to 2000 product items and access to 10,000 inventory list.
Finally they offer the "Enterprise level" at $$249.99 per month if paid annually. At this level all product options, inventories and store integrations are unlimited.
Does Doba.com offer refunds and returns?
Yes they do. They have detailed help instructions on the returns and refund processes including educational videos.
Doba offers a wide range of products, too many to list here but here are the top level product categories on offer.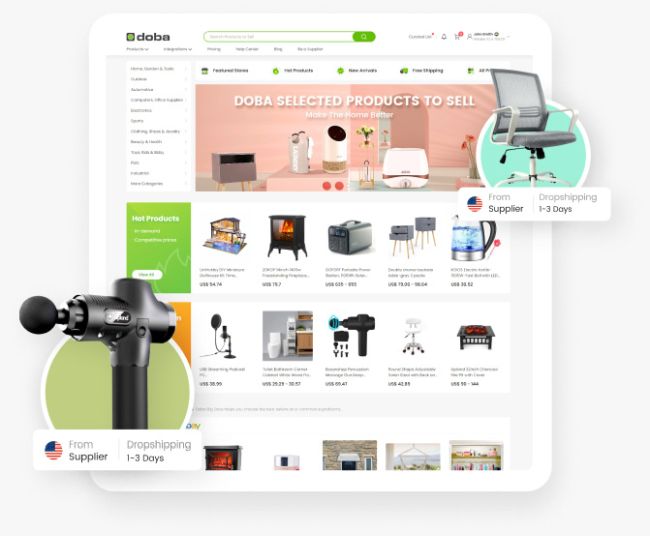 Top Level Product Categories.
Home, Garden & Tools
Outdoor
Automotive
Computers, Office Supplies
Electronics
Sports
Clothing, Shoes & Jewelry
Beauty & Health
Toys, Kids & Baby
Pets
Industrial
Contact Information.
Address:
Doba Inc
3300 N Triumph Blvd
#G40
Lehi
UT 84043
Website: Doba.com
Email Contact is via their dedicated page or live chat.