Eastern Leaf Bonsai Dropshipping
Eastern Leaf is a specialist seller of Bonsai Trees and other ornamental plants and trees. They offer a great opportunity for online retailers to sell their products by dropshipping or wholesale.
Who is Eastern Leaf?
Easternleaf.com, founded by Jason Chan and his partner Renee in 2004. They started out by selling lucky bamboo arrangements in their local farmers markets. Soon after, their business flourished and before long they developed an online store. Consequently, the business has continued to grow from the humble beginnings. From operating out of their garage to now having their own plant nursery and warehouse.
What Products Do They Offer?
Eastern Leaf has established a reputation for being experts in growing and selling bonsai trees.
In addition they also offer products in the following categories. Bonsai Starter Kits, Bonsai Soil, Bonsai Pots, Bonsai Tools, Lucky Bamboo, Air Plants, Terrariums, Ikebana, Succulent Plants, House Plants, Garden Decor, Wind Chimes, Planters, Garden Tools, Japanese Garden Tools.
They also offer a wide range of teas. Black Tea, Green Tea, White Tea, Oolong Tea, Jasmin Tea, Herbal teas, Organic Teas, Red Tea and tea pots.
And finally they sell Aromatherapy Diffusers, Scented Candles, Body Lotions, Hand Creams, hand Crafted Soaps, Bath scrubs, and fragrances.
Eastern Leaf Dropshipping Program
Their experience in selling ornamental plants and Bonsai trees is vital to anyone offering these product for sale. Because Bonsai trees are delicate products the packing and shipping must be undertaken with care. Therefore having a US dropshipping supplier where Eastern leaf packs and ships the product for the retailer makes perfect sense.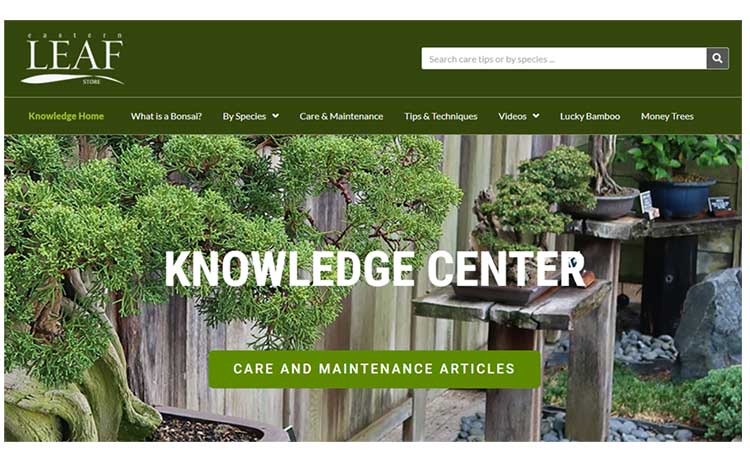 How To Become an Eastern Leaf Bonsai Reseller
Becoming a reseller of Eastern Leaf products is fairly straightforward. There's a simple application form to complete with all your basic business details. Business name, address, website, phone, email and resale licence number. You must have a resale licence to apply.
The application will be processed and returned with a reseller agreement for you to sign. Once completed your account will be opened ready for you to start placing orders.
Shipping Information
Eastern Leaf offers various shipping methods which you can select during checkout. To get a shipping rate you must enter yours or your customers zip code if dropshipping at the checkout.
They have a free shipping offer for all orders over $100. For the shipping cutoff times and order processing times, see their shipping page.
Returns & Refunds
Eastern Leaf offers a 30 days return guarantee. You can return plants within 30 days in their original condition. Plants damaged or suffering ill health in your possession are not covered.
If plants are damaged or defective upon receipt you must notify them within 7 DAYS of receipt.
Contact Information
Address:
Eastern Leaf, Inc.
4789 Cheyenne Way
Chino, CA 91710, USA
Website
Email
General enquiries
info@easternleaf.com
Social Media
Facebook Page: https://www.facebook.com/easternleaf
Instagram: https://www.instagram.com/easternleaf/
Pinterest: https://www.pinterest.com/easternleaf/
Twitter: https://twitter.com/easternleaf
Conclusion:
There are some products where dropshipping makes perfect sense. Bonsai trees and ornamental plants are one such product.
Eastern Leaf has the knowledge and expertise to care for these products in perfect condition. These are living plants and any mis-treatment can result in sick, damaged or even dead plants.
All the plants dropshipped from Eastern Leaf are watered thoroughly and carefully packed to prevent damage, before being shipped out.
Anyone wishing to sell Bonsai or ornamental plants then I would recommend using Eastern Leaf as your dropshipping supplier.