Yournewstyle.pl Dropshipping & Wholesale
Yournnewstyle.pl is a clothing / fashion wholesale and dropshipping business located in Poland, Europe.
Their clothing is mainly produced in France, Italy and London although they also source clothing from other European countries too. Their main business is as a fashion clothing wholesaler. However, in recent years they now offer a Dropshipping program for shopify stores and other online fashion retailers.
Product Range
Their product ranges are divided in two for men's and women's clothing. The women's range includes, Jackets, Coats, Pants, Shorts, Dresses, Sweaters, Tops, Tunics, shoes, Skirts and Blouses. The men's range includes, Shirts, T-shirts, Long sleeve shirts, Trousers, Shorts, Sweaters and Sweat Suits. In addition they also carry a range of fashion accessories including, Pantyhose, Body stockings, Baby Doll Costumes, Nightdress's, Panties, Bra's, Wigs, Lingerie and Shoes.
Dropshipping Program
The Yournewstyle dropshipping program is open and available to all online stores. To use the service you must first register your store with them. It's a simple online form to submit with your business / store details. Once approved your dropshipping account will be activated. There's no contracts to sign and no minimum purchase quantities. You can then begin browsing the products and choose what you want to add to your store.
Shopify Store integration
Shopify – Bigcommerce stores and most other store platforms are supported by XML and CSV product import files. These allow you to upload all the products to your store in an automated method. You can then edit the product descriptions etc later before going live. Alternatively you can edit the XML and CSV files to remove any products you don't want before uploading the files to your store.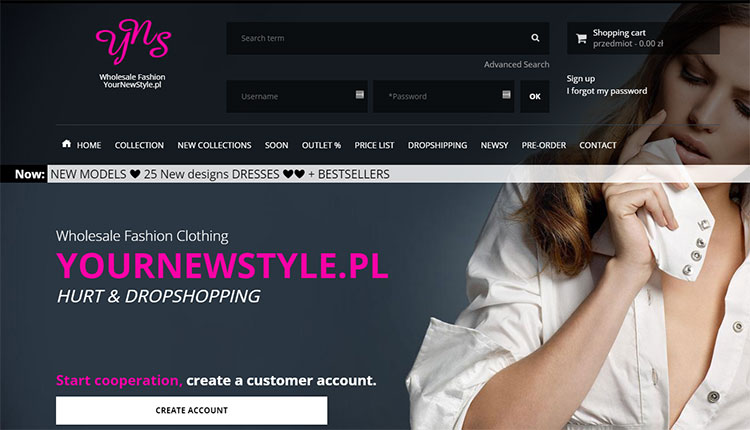 Returns & Refunds
Yournewstyle will accept returns but only under the terms of the agreement between your store and them. This means customer rights are your responsibility and not that of the wholesalers. Therefore products are generally exchanged and not refunded unless they are faulty.
Dropship Order Payments
Payment methods accepted are Paypal, Bank Transfer or Money Transfer. No credit cards accepted.
Shipping
Shipping is offered across Europe and internationally. The rates are displayed fully on their website. It's wise you check the shipping rates before deciding on which countries to ship to.
Shipping to Europe is by DPD and takes approximately 3 days on average.
Contact Information
Address
Head Office
Hurtownia YourNewStyle.pl Sp. z o.o.
ul. Brzezina 18
44 – 177 Chudów
Poland
Email
Dropshipping Contact only: bozena.wasowska@yournewstyle.pl
Telephone
Dropshipping contact only: kom. +48 791 208 906
Social Media
Facebook: https://www.facebook.com/YourNewStylePL
Instagram: https://www.instagram.com/yournewstyle.pl
Here's a page where you can find more dropshipping clothing suppliers