Rockline Dropship is a Distributor of Licensed Music Merchandise.
Welcome to Rockline Dropship – It's a given that licensed merchandise sells! and licensed music merch is no exception.
What is licensed merchandise?
Licensed merchandise is any goods including memorabilia and photographs bearing a company, institution or brand trademark which is sold under the terms of a license agreement. Such products are generally approved before the licensor can offer them for sale. Licensed products also have many restrictions as to when, where and how such products can be sold.
Due to many of the selling restrictions placed on licensed products it can be difficult for dropship stores or online only retailers to offer licensed merchandise. This is where Rockline Dropship comes into play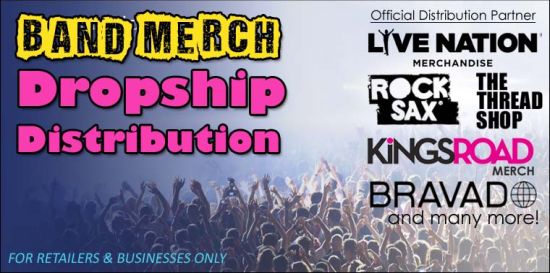 What Do Rockline Dropship Offer?
They offer licensed music t-shirts for a host of top Rock bands such as David Bowie, Black Sabbath, Guns n Roses, Rolling Stones, Queen, The Beatles, James Brown, George Clinton and many, many more artists.
You must be a registered business in the United States or Canada to get an account with Rockline Dropship. If you're not a registered business or are based outside the US or Canada then unfortunately you can't have an account.
Are There Any Account Fees?
Rockline offers free accounts for high volume retailers and a small $8.99 monthly fee for small retailers. They will waive the fee if you are a Shopify user and subscribe to their Shopify app. Which is a fair deal all round.
The prices are the same for both large and small retailers. Both get the best enterprise level product pricing and service.
How Do I Add Rockline Products To My Store?
Rockline offers a number of integration tools for many of the large ecommerce marketplaces such as Amazon, Walmart, Sears, Overstock and more. They also offer integration tools and feeds for stand alone stores using Shopify, Bigcommerce, Volusion, Opencart, Zencart, xcart and more. If you need a basic CSV file for upload then that's available too. Click for data feed info
What Are Rockline Shipping Times?
For Domestic Shipping.
U.S. Ground: 4-9 days via DHL Ecommerce services (typically DHL Smartmail Parcel Expediated) or USPS.
USPS Priority Mail: 2-3 days
For International Shipping
International Standard Shipping via DHL GlobalMail Packet Plus (DHL Ecommerce).
Average transit times of 4-8 days (Europe) or 6-11 days (rest of the world).
Includes up to $100 of insurance on every shipment via U-Pic insurance (contact us to file a claim after more than 30 days from shipment).
Milestone tracking worldwide and final delivery scans to 35+ key markets.
International orders over 4.4lbs will ship via DHL Parcel International Standard.
Click to see all the shipping info
Do Rockline Dropship Offer Accessories?
Yes they do, they offer a range of licensed Hats, Backpacks, Fanny Packs, Wallets, Belts, Bar Stools, Bar Accessories and Drink Bottles.
Opening Times
Monday-Friday 9:00AM – 5:00PM CDT
Contact Via