CCWholesaleClothing.com – Dropshipping Program
CCWholesaleclothing.com is the ultimate destination for wholesale and dropshipping buyers of discounted fashion. They offer closeout merchandise with high quality designs, in addition to their vast selection of apparel and accessories that are sure to satisfy all your customers needs!
Who Is CCWholesaleclothing Dropshipping?
This company was founded back in 2009 as a family business and has grown into a specialist wholesaler and dropshipping clothing fulfilment business. In addition, they offer turnkey dropshipping websites (ready to go) designed and fully stocked with products.
Products Ranges
Offering customers fashionable clothing at great prices throughout all categories like Tops, Dresses, Bottoms, Jumpsuits and romper sets, Sleep wear, Active wear, outdoor wear and Jeans. All available in both regular and plus sizes. With over 5500 different product available including accessories such as Belts, Hosiery, Lingerie, Sunglasses, Handbags, Scarfs and hair accessories too.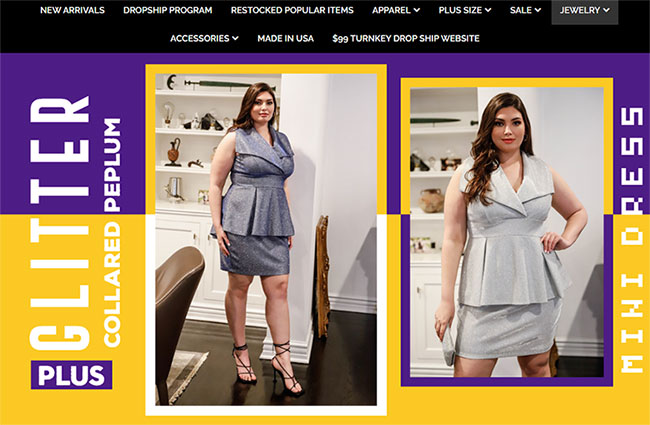 Dropshipping Program
Along with the wholesale they also offer a dropship program. They have taken the dropshipping side of their business seriously and looking into the needs of the online stores selling their products. As a result they have everything in place to make sure a quick and easy integration with existing stores, and new stores too.
Key Features
Access to product data feed.
No fee per order.
No minimum order quantities.
Over 5000 products
Wholesale pricing
Priority orders
Automatic data feed updates
New products added weekly
The data feed integrates with all major platforms such as; Shopify, Bigcommerce, Woocommerce, Facebook, Ebay, Wish, Amazon and Poshmark. Ask for details on other platforms.
Shipping Information
CCwholesaleclothing dropships within the USA only. All items are shipped from their warehouse in Los Angeles CA.
Orders are processed, shipped and delivered within 5 -7 days form the date of order. I feel that's a great service which is an advantage to you as an online store owner.
Order tracking is available and you'll get a tracking link by email once the item is shipped.
Free Returns & Refunds
Now this is where they really excel. They offer FREE returns. All items must be returned within 30 days to qualify for a refund. You must request authorization for the return through the website or app. Once approved you'll get a free shipping label which you can then forward on to your customer. This service is exception in this industry especially with dropshipping so this is a real plus. Also fashion is renowned for their returns rate so free returns is a HUGE bonus.
Contact Information
Address:
1732 Santee Street, Los Angeles, CA, United States.
Phone:
Toll Free. 866.298.8402
Email:
info@ccwholesaleclothing.com
Social Media
Facebook: https://www.facebook.com/ccwholesaleclothing
Instagram: https://www.instagram.com/ccwholesaleclothing/
Conclusion
CCWholesaleclothing are what I would class as a true dropshipping supplier. They offer wholesale products and dropship at no extra charge. In addition they go the extra mile with the setup and running of the business with their use of data feeds and free returns.