Trevco.com – Dropship – Licensed Clothing – Print on Demand
Trevco Dropship licensed clothing is the largest licensed apparel company in the United States. They're known for their high-quality, officially licensed products.
Trevco Dropship licensed Clothing
Their clothing is popular with all ages and genders, and their catalog includes a wide variety of brands and licenses. The brands they offer licences for are in the following categories. Cartoons, TV Shows & Movies, Sci-Fi, Comic Characters, Celebrities, Music Groups and Artists, Cars and Games.
They are currently partnered with over 800 licensed brands, far too many to list here.
They offer t-shirts, hoodies, hats, and more, all emblazoned with logos and characters from some of the most popular shows, movies, games, and brands around.
Trevco's products are high-quality and their prices are reasonable, making them a great option for anyone looking for officially licensed merchandise. Thanks to their vast selection and excellent reputation, Trevco is the go-to source for licensed clothing in the US.
Trevco Early Days
(1) Trevco originally started out in1990 as a traditional apparel licensee. In 2000 they had expanded to 13 brands and 175 designs. 2006 saw them become the first licensed apparel company to invest in direct to garment DTG print on demand technology. By 2010 their portfolio had grown to 175 brands and over 2000 licensed designs. When they got to 2017 they had exploded to over 700 brands and 16,000 licensed designs. They become the Amazon #1 Licensed apparel seller in 2018 and today they have a 75,000 sq ft of glory in Metro Detroit, LA, & NYC, with a team of 150 plus people. (1) Trevco About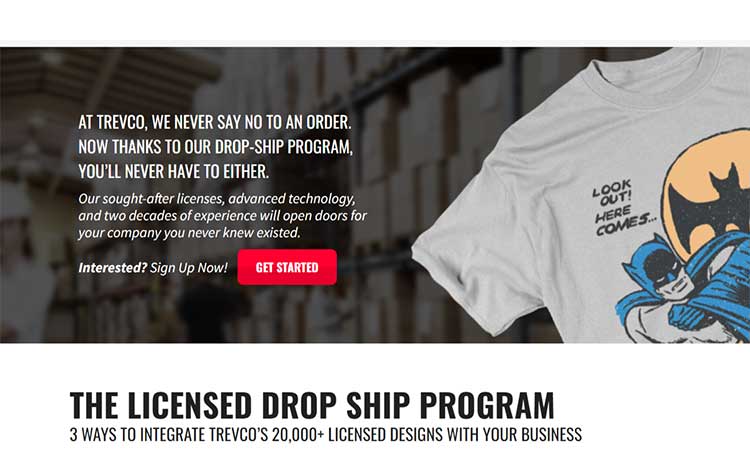 Trevco Dropship – Print on Demand
For over 10 years, Trevco has been efficiently perfecting its innovative print on demand technology platform. Online retailers can use it submit orders for all kinds of licensed merchandise, available for dropship.
Today, Trevco is the leading print on demand technology platform in the licensed merchandise industry. With the rights to over 400 of the world's leading licensed properties. This gives Trevco a distinct advantage over its competitors – Online retailers who partner with Trevco for dropshipping can offer their customers a much wider range of products than those who don't. And because Trevco's platform is so easy to use, it's easy for retailers to get started and start seeing results quickly.
Trevco Recent Expansion
In late 2021 Trevco acquired the British branding company Mandarin International Brands. Based in Eastover, Plymouth UK. They already boasted clients such as Nike, FIFA and Vispring whilst being the UK's largest licensed apparel company.
This acquisition will not only grow their business in the UK but also across Europe too. Read the full story.
Dropship Integration
Trevco offers 3 methods of integrating with their print on demand platform and placing orders for dropshipping
Manual with their B2B portal.
For customers with low order volume it's recommended that you enter your orders manually into their B2B portal. This is similar to most online store ordering and is the least complicated method.
CSV file Upload
This is recommended for customers with regular daily higher volume orders. This method requires more setting up and technical expertise
Via API
This method also requires more technical expertise and direct integration with your own store and the Trevco API. This is only recommended for established stores with the technical support required.
Conclusion
In conclusion, Trevco has to be the first choice for those looking for licensed merchandise of household brand names and a dropshipping company. They have an easy-to-use online ordering system, and their products are of high quality. Their range of licensed products is just amazing.
In addition to its many product offerings, the company also provides a number of services such as design, fulfilment, and shipping. Trevco has an excellent reputation in the printing industry and is well-known for its quality products. I recommend this company for anyone looking for a print-on-demand or US dropshipping supplier.
Contact information
Websites
Wholesale: https://shop.trevco.com/
Dropship: https://b2b.trevcoinc.com/wp/
Corporate: https://trevcoinc.com/
International: https://www.trevco.com/
Address
Michigan HQ
32450 N Avis Drive
Madison Heights, MI 48071
Utah HQ
4837 West 2400 South
West Valley City, Utah 84120
United Kingdom HQ
10 Sisna Park, Estover Road
Plymouth, Devon, PL6 7FH
United Kingdom