Tashaapparel.com – Dropshipping Women's Clothing
Tashaapparel.com is a popular women's clothing wholesaler and dropshipping supplier that has gained a reputation for offering trendy clothing styles for women. Founded in 2005, the company has been in the wholesale business for over 17 years, making it one of the oldest and most experienced wholesalers in the online marketplace.
One of the reasons for the company's longevity is its focus on staying up-to-date with the latest fashion trends. By keeping an eye on the latest catwalk shows and celebrity styles, Tashaapparel.com is always ready with its latest collection of trendy styles, which have helped to attract a loyal following of customers.
The company also boasts its own in-house team of stylists who play a crucial role in creating the best-selling collections. This means that customers can expect to find unique, high-quality clothing items that are not available anywhere else.
Tashaapparel.com has a wide range of clothing items available for dropshipping, including swimwear, bodysuits, trousers, dresses, skirts, tops, sweaters, cardigans, jackets, jeans, rompers, jumpsuits, and plus sizes. The variety of collections available ensures that customers can find what they are looking for, whether they are looking for casual wear or something more formal.
Dropshipping is a popular option for those who want to start a clothing business without having to invest a lot of money in inventory. Tashaapparel.com makes it easy for entrepreneurs to get started by providing a wide range of clothing items at competitive prices. With their experience in the industry and commitment to quality, Tashaapparel.com is a reliable partner for anyone looking to start their own clothing business.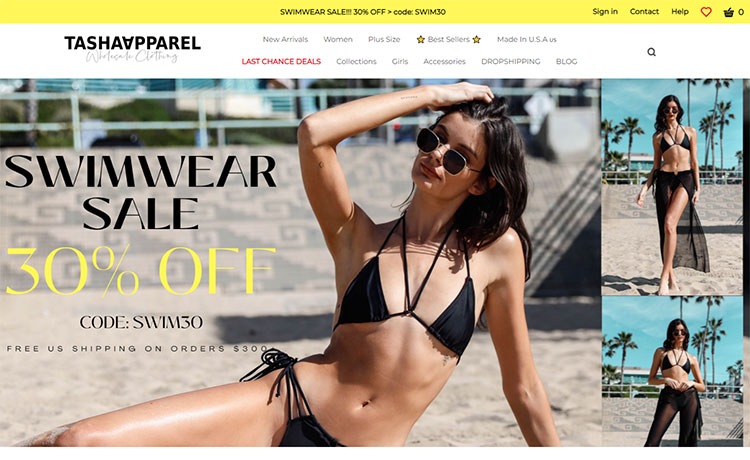 Tasha Apparel Dropshipping Program
The Tasha Apparel dropshipping program is easy to join and straight forward to operate.
It's a simple 3 step process to sign up.
Register online
Fill out the application form and submit it.
Receive an email with your username and password.
Login to your account to purchase
It's that easy.
Shop Integration
Currently there's no information about integrating their products into your store. Therefore you should assume that it must be done manually. I reached out to them for more information and I'm awaiting a reply.
Shipping
They offer fast shipping from the US for US and International destinations.
Contact Information
Address
6901 McKinley Ave
Los Angeles
CA 90001
United States
Website: tashaapparel.com
Email: info@tashaapparel.com
Telephone: 323 531 9398
Social Media
Facebook: https://www.facebook.com/TashaApparel
Instagram: https://www.instagram.com/tashaapparel.com_wholesale/
Twitter: https://twitter.com/tashaapparel
Pinterest: https://www.pinterest.com/tashaapparelwholesale/
To find more dropshipping suppliers like this see our big list of 155 The Best Dropshipping Websites