Tashaapparel.com - Dropshipping Women's Clothing
Tashaapparel.com is a women's clothing wholesaler and dropshipping supplier based in Los Angeles, California.
They've been online since 2005 giving them 17 years of online wholesale experience. To survive online for so long they must be doing something right!
Their clothing focus is the latest trendy styles. Keeping tabs on the latest catwalks and celebrity trends they're always ready with their latest look-alike styles.
They have their own in house stylists which is vital for creating the best selling collections.
They have fashion to dropship in the following collections
Dropshipping Collections
Swimwear
Bodysuits
Bottoms/ trousers
Dresses
Skirts
Tops
Sweaters / cardigans
Jackets
Jeans – Denim
Rompers Jumpsuits
Plus Sizes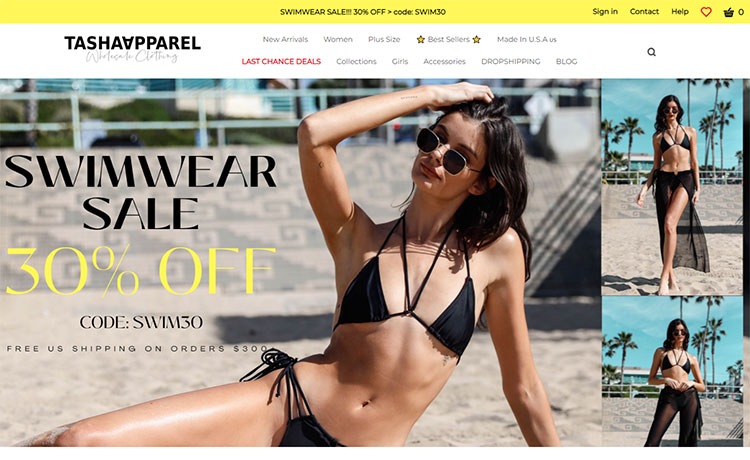 Tasha Apparel Dropshipping Program
The Tasha Apparel dropshipping program is easy to join and straight forward to operate.
It's a simple 3 step process to sign up.
Register online
Fill out the application form and submit it.
Receive an email with your username and password.
Login to your account to purchase
It's that easy.
Shop Integration
Currently there's no information about integrating their products into your store. Therefore you should assume that it must be done manually. I reached out to them for more information and I'm awaiting a reply.
Shipping
They offer fast shipping from the US for US and International destinations.
Contact Information
Address
6901 McKinley Ave
Los Angeles
CA 90001
United States
Website: tashaapparel.com
Email: info@tashaapparel.com
Telephone: 323 531 9398
Social Media
Facebook: https://www.facebook.com/TashaApparel
Instagram: https://www.instagram.com/tashaapparel.com_wholesale/
Twitter: https://twitter.com/tashaapparel
Pinterest: https://www.pinterest.com/tashaapparelwholesale/
To find more dropshipping suppliers like this see our big list of 155 The Best Dropshipping Websites
Listing ID

:

7474

Services Offered

:

Wholesale, Dropshipping