Aliexpress Shipping Times – The Ultimate Guide
Aliexpress Standard & Premium Shipping Times
Aliexpress is the one of the largest e-commerce websites on the planet.
Aliexpress was founded in 2010 and is owned by the Alibaba Group of companies. It's headquarters are in Hangzhou, Zhejiang, China.
It allows small to medium sized businesses as well as individuals to sell their products online to a worldwide audience.
When you buy something on Aliexpress you are buying from a single business or individual, not from Aliexpress itself. You can say it's similar to Ebay, where you buy from individuals and businesses. Ebay and Aliexpress are simply e-commerce platforms which the individual stores run on.
It is the nature of the platform which can create problems with shipping. Each business on Aliexpress can choose their own preferred method of shipping.
Therefore you end up with more shipping options than you would normally expect.
In this article I'm going to cover most of the different Aliexpress shipping options available to you.
In addition I'm going to answer some of the popular questions about Aliexpress shipping times.
Aliexpress is a fantastic website for buying products from China. Anyone can buy from Aliexpress but it's mainly used by small to medium sized businesses for drop shipping products. Drop shipping is a method of purchase and delivery. With this method, a customer will order product x from your store. You then order the product from an Aliexpress seller who in turn, ships the product x direct to your customer. Some people also call this blind shipping.
Dropshipping is becoming increasingly popular for e-commerce stores due to the fact they no longer have to carry huge quantities of stock. They simply purchase each item as the orders come in.
The problem many store owners have is deciding which shipping method to use. As mentioned earlier, Aliexpress sellers are all individual businesses who can choose their own shipping method and carrier or courier.
What shipping methods does Aliexpress offer?
Currently Aliexpress suppliers can choose from the following express shipping options:
UPS, FedEx, DHL, TNT, EMS, TOLL, e-EMS, e-Packet press release, China Post Registered Air Mail, China Post Air Parcel, China Post Ordinary Small Packet Plus, HongKong Post Air Mail, HongKong Post Air Parcel, Singapore Post, Swiss Post, Sweden Post, Russian post tracking, Special Line-YW, DHL Global Mail and S.F. Express.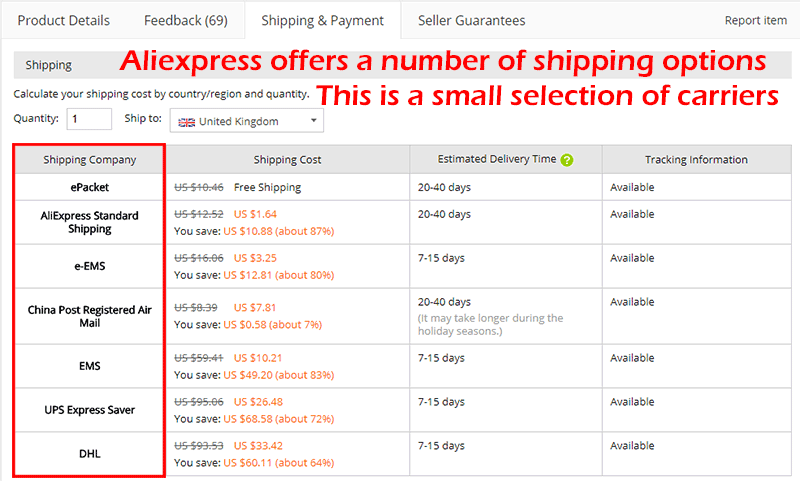 Since the shipping methods are set up by the suppliers, you are advised to directly contact the supplier for more shipping information. To contact the supplier, you may go to the product detail page or shop and click Contact Now to send a message.
What Is Aliexpress Standard Shipping?
Aliexpress Standard Shipping is a logistics company that belongs to Alibaba Group. This shipping method you can get when you order something from AliExpress or any other websites from Alibaba Group. The way it works is that the company is not a delivery service, they are an agent that solves some problems with logistics and package control.
Aliexpress Standard Shipping are partners with many shipping services and transport companies: Singapore Post, Posti Finland, Correos and some others. It is not the cheapest delivery option, you might have to pay extra to use this shipping method, but it is a much more secure way to get your orders delivered. The standard shipping option is available with a tracking service.

Standard delivery time of most packages is 15-45 days. They also offer a premium shipment service which takes 7 – 15 days to most destinations.
What Is Aliexpress Premium Shipping.
Some websites often quote e-Packet as the Aliexpress premium shipping . This is not true. It is the premium version of the Standard shipping. It is run by the same logistics company created Alibaba. The only difference is the premium is a faster shipping service. The premium service will cost more. It can be up to 10 time more than the standard shipping. Although the price will vary depending on where the products are being shipped to.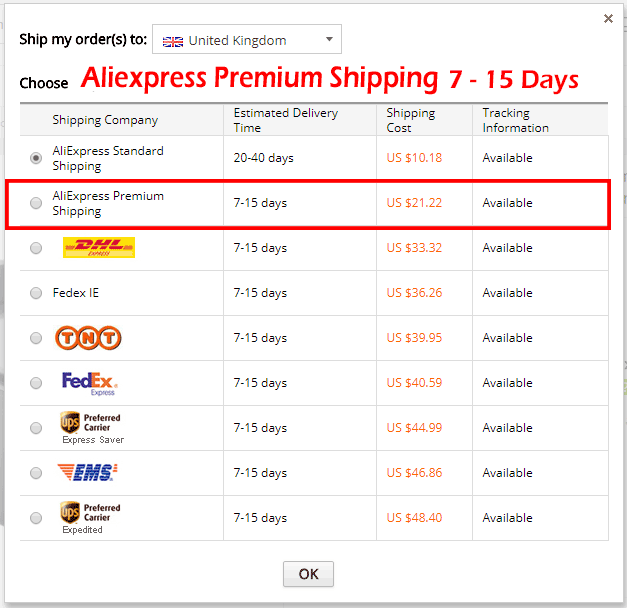 What Is e-Packet Shipping?
e-Packet shipping started out as an agreement between USPS and Hong Kong post. In the USPS press release on 20th April 2011 they stated. "e-Packet service offers consumers in the U.S. and e-commerce merchants in Hong Kong with in-process scanning information and Delivery Confirmation notification available through Hong Kong Post's tracking system and through Track and Confirm at usps.com.
Merchants selecting the shipping solution through Hongkong Post are now able to ship small packages weighing up to two kilograms (4.4 pounds) using co-branded shipping labels. Upon arrival in the United States, these packages receive First-Class Mail service with Delivery Confirmation service."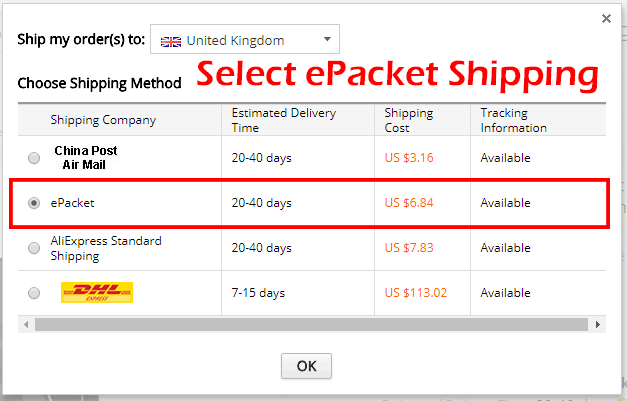 Since that announcement many more countries and postal services have joined with the agreement.
Which Countries Currently offer e-Packet shipping and delivery?
35 countries support e-Packet deliveries and the list continues to grow:
Australia
Austria
Belgium
Brazil
Canada
Croatia
Denmark
Estonia
Finland
France
Gibraltar
Great Britain
Greece
Hong Kong
Hungary
Ireland
Israel
Italy
Japan
Latvia
Lithuania
Luxembourg
Malaysia
Malta
Netherlands
New Zealand
Norway
Poland
Portugal
Russia
Singapore
Spain
South Korea
Sweden
Switzerland
What are the average shipping times from Aliexpress?
Times can vary from country to Country and also throughout the holidays such as Christmas, New Year, The Chinese New year. in addition there are other public holidays which can affect transportation and deliveries. If in doubt check the originating country and destination for their respective public holidays.
Aliexpress Standard Shipping  – Average Shipping Times From China

Country Origin
Country Destination
% Delivered In
Days
Average Time in Days
China
Australia
46.8%
16 – 30
17.6
China
Australia
45.8%
7 – 15
China
Austria
73.0%
16 – 30
23.5
China
Belgium
54.2%
16 – 30
24.6
China
Brazil
82.9%
31 – 60
41.6
China
Canada
54.9%
16 – 30
21
China
Croatia
62.1%
7 – 15
16
China
Denmark
48.9%
7 – 15
17.6
China
Denmark
46.7%
16 – 30
17.6
China
Estonia
67.7%
16 – 30
23.5
China
Finland
62.0%
16 – 30
21.7
China
France
55.8%
7 – 15
16.8
China
France
39.3%
16 – 30
China
Germany
40.8%
16 – 30
20.3
China
Germany
45.4%
7 – 15
China
Great Britain (UK)
76.4%
7 – 15
13.2
China
Greece
76.7%
16 – 30
23.7
China
Hong Kong
64.0%
7 – 15
15.7
China
Hungary
61.5%
16 – 30
28.1
China
Ireland
44.8%
16 – 30
32.3
China
Ireland
45.1%
31 – 60
China
Israel
52.3%
16 – 30
30.8
China
Italy
43.2%
16 – 30
31
China
Italy
43.1%
31 – 60
China
Japan
42.5%
16 – 30
22.6
China
Latvia
58.3%
16 – 30
21.9
China
Lithuania
61.1%
16 – 30
24.9
China
Luxembourg
74.3%
16 – 30
23.6
China
Malaysia
65.0%
16 – 30
19.6
China
Malta
52.9%
7 – 15
17.7
China
Malta
39.5%
16 – 30
China
Netherlands
74.1%
7 – 15
14.1
China
New Zealand
63.7%
7 – 15
15.3
China
Norway
56.3%
16 – 30
29.8
China
Poland
65.4%
16 – 30
28.8
China
Portugal
49.5%
16 – 30
32.7
China
Portugal
49.9%
31 – 60
China
Russia
59.9%
16 – 30
30
China
Singapore
73.7%
16 – 30
27.2
China
Spain
51.5%
7 – 15
17.6
China
Spain
42.3%
16 – 30
China
South Korea
57.6%
16 – 30
18.4
China
Sweden
58.8%
7 – 15
16
China
Switzerland
64.0%
7 – 15
15.4
China
United States
61.0%
16 – 30
20.4
Data Source: trackingmore.com
The delivery times are broken down as follows:
0 – 7 Days
7 – 15 Days
16 – 30 Days
31 – 60 Days
60 Days or more
% Delivered In
This is the largest group of successful deliveries taken from all deliveries to that country.Example: 64% of all deliveries to Sweden were delivered within 7 – 15 Days with an average of 16 days
Data Date:05/18/2018
Aliexpress Shipping / tracking – How to track your shipments.
If you have chosen a shipping service with tracking information they its very easy to check.
Once you have placed your order it will take up to 24 hours for the payment to be confirmed. Once this is done and your order has been accepted your supplier will provide you with a tracking number. You can use this tracking number to locate your package in transit.
Please note: The tracking information won't be available until the product is processed and actually shipped. If your supplier takes 3 days to process your order it may take up to 5 days for the tracking information to be available.

Once your goods are in transit, you can use websites such as http://global.cainiao.com/ or https://track24.net/service/aliexp/tracking/ or https://www.17track.net/en
Visit one of these websites and enter your tracking number to see the current location of your goods.
What is the Aliexpress Shipping Cost?
This is entirely dependent on the supplier, the product size and weight, the shipping service being used, the Country of origin and the destination. It's impossible to give a figure to this here in this article. You can easily see the shipping cost on the Aliexpress product page. It's always worth checking a few different suppliers to see if the shipping cost varies.
Will Long shipping times affect my dropshipping business?
In some cases it will affect your business. It really depends on the product being offered. If they are simply an impulse purchase and it's not urgent then most customers are happy to wait. They may even email you asking about their order. In this case you can send them the tracking information.
If the goods your selling are perishable then, yes long shipping times will affect your business. In addition if you're selling medical equipment, medicines, supplements or even replacement parts. These are generally required with fast delivery, so this is another thing to consider. Each store owner must evaluate the need for faster shipping times and use suppliers who offer this where necessary.
Many retailers will use a disclaimer or a shipping policy detailing the shipping times. You can also add the shipping times to your product descriptions. Although it has been reported that sales conversions can suffer when shipping times are added to the product description. So a shipping policy document is advised if you're experiencing long shipping times.
Aliexpress Shipping FAQ.
Can I negotiate the shipping price?
Since the shipping methods are set up by the suppliers, you are advised to directly contact the supplier for more shipping information. To contact the supplier, you may go to the product detail page or shop and click Contact Now to send a message. You can also click Chat Now! to chat in real time with suppliers who are online using our instant messenger, TradeManager.
If you feel the shipping fee is too high for an item you would like to order, you may contact the supplier regarding shipping cost. If the supplier agrees to change the shipping cost, he/she can modify the amount as per agreement before payment. Or you may also choose alternative shipping methods to lower the shipping cost.
Can I change my shipping address after placing an order?
Please be advised that your shipping address cannot be revised after the order has been placed successfully. If you have made payment and want to change your shipping address, please directly contact your supplier to inform him/her of your new address before your order is shipped out. If you did not make payment yet, you can ignore the order with the incorrect shipping and replace a new order with your correct shipping address. The unpaid order will be cancelled automatically after the due day.
How long does it take for my order to be delivered?
Generally, orders are delivered within 3 – 60 working days. However, an extension can be made if the buyer and supplier mutually agree on a new date. If the buyer did not receive the goods (goods still in transit) even after being shipped by the supplier, the buyer needs to contact the supplier negotiate a longer shipping period. If the supplier has not shipped the order before the agreed date, the buyer can always contact the supplier to agree a new date; or make a Refund Request. aliexpress shipping times
How do I track my order?
After the supplier ships your order, a tracking number will appear. You can track your order on shipping company's website with the tracking number provided.
Log in my Alibaba and see the tracking details in transactions. Note: It may take 48 to 72 hours for the tracking information to be updated by the shipping company and sometimes tracking numbers may change. If after 3 days you cannot get the tracking information of your order, please contact your supplier for more information.
How do I confirm my order has been received?
How to Confirm Delivery
1. Sign in to My AliExpress
Click "Transactions", choose " Goods Awaiting Acceptance" to view your Orders:
2. Select the Order
Choose the Order you want to confirm and click 'View Details' or 'Confirm Order Received'. If your Order has been successfully delivered and you're satisfied with the item, click "Confirm Order Received".
3. Click "Confirm"
After confirming delivery, click "Confirm" and the order will be finished .
Note:
If the goods are not delivered in time after the supplier has confirmed shipment, we advise you to contact the supplier immediately for an extension to the Delivery Period.
Buyers have the right to apply for a refund if:
The goods are not delivered in satisfactory order. The Order does not arrive within the stated delivery time
Aliexpress Shipping Times, The Ultimate Guide.