Top 4 Retail Sales Conversion Tips
Sales Conversion Tips That Work!
When you're starting a new business you have to come up with lots of ideas and figure out the winning formula for your business. I assume you've already setup your business from the ground up by researching the trends, new niches and most likely you've created something totally new.
So today I am here to talking about the Top 4 Retail Sales Conversion Tips to boost your e-commerce store and get more sales.
Now you're set up and running your business successfully but if you don't follow E-commerce best practices then you're leaving a lot of money on the table.
A little background about me: I am Ash Ome, I've run a successful creative eCommerce agency and Shopify Plus Partner since 2015, I'm a front-end developer and I started my entrepreneurial life in 2015. Since then I have helped hundreds of eCommerce entrepreneurs in their digital adventure.
I'm about to discuss with you the 4 conversion tips I use most and trust me these are proven and evergreen. So let's dive into it..
[toc]
Conversion Tip 1 – Use Email For E-commerce
Email is a great way of communication. These days most eCommerce entrepreneurs use this awesome tools for their business. There are lots of ways to use it. E-commerce email marketing is a cross between art and science to generate more sales through email.
Though it's a huge subject I will touch some of the best practices with eCommerce email marketing to lift your ROI before continuing with the remaining retail sales conversion tips.
Sending Welcome Series:
Email marketing is huge. Nowadays people expect that they will get a welcome message from the eCommerce store they have bought something from. It will help you to make a better impression right off the bat.Your welcome email will open the door to making contact with your customers.It will increase the open rate for future emails too. So it's important to get it right. Beyond that, it's the ultimate way to cultivate the pattern of engagement.
Post Purchase Follow Ups:
Post Purchase follow up is an evergreen sales technique.This will show your customer that you appreciate their business with you and you really care about them. It will also show that you really care about their satisfaction with the product they bought, even if you've already taken their payments.It's an essential tool to get reviews and show customer generated content.
Upsell Products With Email:
A great way to earn more revenue is by sending an upsell email to your existing customers.Before you dive in, you have to make sure you already engage with your customers by sending welcome series and post purchase emails. It is the ultimate way to increase revenue and establish a powerful pattern of repeat purchase.
Recover Abandoned Checkouts:
Have you ever left an online store before checking out?Abandoned Checkout is currently the biggest headache in the eCommerce industry.People may do it for various reasons.Your duty is to recover those abandoned checkouts by sending a reminder to the user.Try to make it more personalized, you can do that by adding their First Name, City, and a discount code.
Conversion Tip 2 – Push Notifications
Push notifications are similar to any other messages which come from a website or app.
These messages will appear on your device even you're not using the app or website. In our everyday life, we use that a lot, think Facebook notifications. When someone sends you a message through Skype or Facebook messenger a push notification will appear on your device.
The primary purpose of push notifications is delivering content as soon as possible. This is pretty new in the e-commerce industry and it can drive your conversion rate crazy if you use it wisely. Most marketers ignore push notifications and this is a big mistake.
Push notifications will also increase engagement and user retention.
E-commerce businesses use various ways to grow their traffic and engage with their existing traffic. There is no other way to engage with your existing customers and with new customers than web push notifications.
According to Kissmetric's stats "Web push notifications, deliver the power of real time push notifications to 42% of internet users and it still accounts 72% of online sales.
Now imagine that how it will help you to get more sales.
" Web push notifications deliver the power of real-time push notifications to 42% of internet users.
There are a couple of ways to use Web Push Notifications with your Shopify Store to get more sales.
Don't get too excited with that, though! You've to keep in mind that like other tools push notifications can have some good and bad sides too. If you annoy your visitors with too many unwanted and spammy push notifications it won't take long for the customer to unsubscribe from your notifications.
You have to make every push notifications personalized to individuals visitors instead of just sending generic messages to everyone.
Below are few best practices for using push notifications all of which I highly recommend.

Announce New Products:Most eCommerce merchants are generally clueless regarding the best way of letting their customers know about new products. Nobody really cares about all the products you're offering, just a few of the products that might appeal to them.So it's important that you make sure your future campaigns will target the right customers who are really looking for those products. Based on user's recent behaviours along with the rules you put in your back end it is possible to trigger push notifications to your potential customers. You can direct them to a highly personalized new and relevant products. I highly suggest you make different campaigns for your existing and new customers.
Send Informational Push Notifications:Another great example of using push notifications is engage with your customers by sending various informational things. You can also send them notifications about your new blog post and promotional content.As an example, if someone was interested in a pair trendy denim jeans and never completed his/her purchase, you can send an interesting article about "Top 3 Summer Denim Jeans which is trending right now".
Recover Abandoned Checkout by Push Notifications:It's really a common frustration of eCommerce entrepreneurs to see their visitors leaving their online stores without buying. They add products to their cart and then abandon it at the last moment before confirming any order.Fortunately, there are now many apps to recover abandoned carts by sending emails automatically. But what if the visitor abandoned the cart before they filled out their contact information? You will not have their email to send the email sequences right!!!Here push notifications will work for you. With push notifications, you can send them a notification about their cart perhaps with a discount to drive them back to your store.
Now your ultimate question is which app should I use to integrate push notifications with my Shopify Store! Ok, there are few apps on Shopify Apps store.
Here are some Push Notification apps from the Shopify App store for you to choose from.
Conversion Tip 3 – SMS & E-commerce
There are hundreds if not thousands of different e commerce technologies. Marketing your products in this technology crowded world sometimes overwhelming.
Some stores have noticed that they can't really reach to their potential customers via Social Media and SMS. For example, Nordstrom saw with their research that most of their customers preferred to be contacted via SMS. With SMS the experience for the customer will be similar to the Live Chat which is becoming popular nowadays. All you have to do is give it a personal feel instead of being anonymous.
Here are some examples to use SMS Marketing for your Shopify Store.
Announce about the new products via SMS:You can use SMS like other mediums (ex: email, social media) to let customers know about your new products. You can make it more special by adding a personalized experience and by offer discounts.When you're preparing your next holiday campaign don't forget to send special promotions to your existing customers via SMS.
Send Shipping Information:When people are buying online they always conscious about the shipping information. Here instant an message would help you to make it painless for them.Since most short messages take roughly three minutes to read it's a great way to communicate with your customers. Send an immediate message to your customer to let them know that the order is confirmed and have been shipped on the way to them.

Sending Shipping Information Via SMS

Recover Abandoned Checkouts via SMS:You may know that abandoned checkouts are the biggest problem in the eCommerce world.Though you can send abandoned checkouts recovery emails sometimes email clients like Gmail will force that to promotion or spam folder :-(. As long as you can communicate with your customers via SMS, next time doesn't let them go without checking out.

An Example of Recover Abandoned Checkouts Via SMS
Which apps to use to Send SMS?
Here are few Shopify SMS apps I think you should try.
SMS Notifications (with Abandon Cart Recovery)
I hope you are enjoying these retail sales conversion tips, I have just one more for you!
Conversion Tip 4 – Address Auto-fill
As I have previously discussed the abandoned checkouts problem.
Do you know in 2014 the abandoned cart rate was 70% and if you want to count that in dollars it was 4 trillion.
There are several reasons people may abandon their cart. One of that is some people are too lazy to fill in the forms.
I have a case study on that and we use a new technology which tracks and autocomplete the address on the checkout page. We were able to reduce the percentages of abandoned checkouts on one of our client's store. We reduced that to 28% from 70%.
You should do that too, fortunately we are working on an app "Checkoutify" which will allow you to enable the address autocomplete function on your Shopify Store.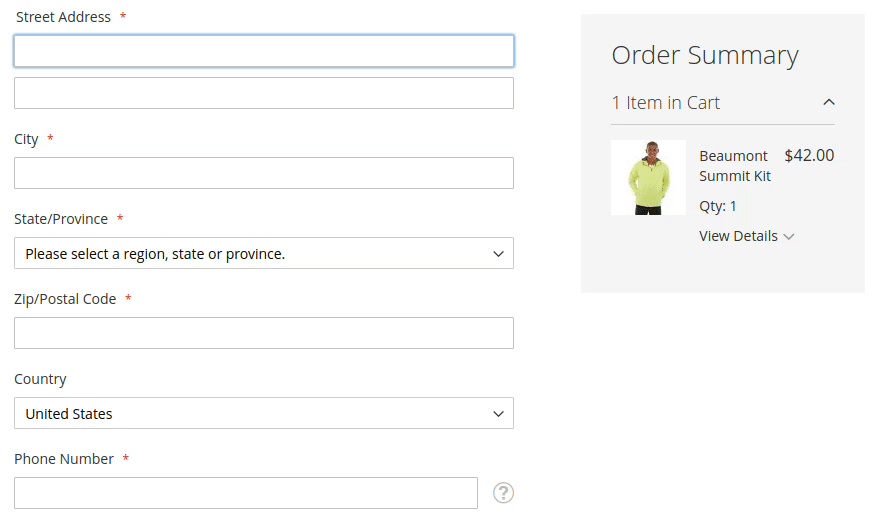 The idea behind Checkoutify is it will help you to recover abandoned checkouts by sending your customers automated abandoned email recovery sequences, SMS Sequences, through Push Notifications.
It will never let your customer being lazy to leave your store without checking out. We named it Checkoutify because we believe it will help you to recover abandoned checkouts and help you to pivot your future sales by engaging with your customers.
I hope you have enjoyed reading my Top 4 retail Sales Conversion tips. If you've any questions or need help on e Commerce don't forget to drop a comment, I will more than happy to help you.
Cheers! Happy E-commerce.