The Best Dropshipping Jewelry Suppliers With Shopify
The Best Dropshipping Jewelry Suppliers
Dropshipping Jewelry Suppliers For 2023 and Beyond
Are you looking to dip your toes into the world of entrepreneurship and e-commerce? Jewelry is a timeless product that always seems to be in high demand, no matter the season. That's why dropshipping jewelry can be a fantastic way to test the waters without breaking the bank on inventory.
With low startup costs and the ability to easily test different products and markets, dropshipping jewelry can be a low-risk way to get started. In this blog, we'll be your guide to the exciting world of dropshipping jewelry. We'll dive into the benefits of running a dropship jewelry store, show you how to set it up, and even provide a list of top dropshipping jewelry suppliers.
But wait, there's more! We'll also help you navigate finding jewelry suppliers and provide a list of questions to ask them to ensure you find the right fit for your business. And just so you have all the information you need, we'll even shed light on the potential disadvantages of dropshipping jewelry.
So what are you waiting for? Let's explore the world of dropshipping jewelry suppliers and discover the exciting possibilities it has in store for you!
Introduction to Dropshipping Jewelry
Dropshipping has become an ideal business model for those who seek high returns on investment and low overhead costs. Jewelry dropshipping is an expanding business with huge potential for profit. Top dropshipping companies feature a variety of jewelry collections, including rings, bracelets, earrings, necklaces, and more.
Finding a reliable jewelry dropshipping supplier is not just about finding the right product; it is about building a lasting business relationship. The contact information of top suppliers can often be located on their websites. With some research and strategy, dropshipping jewelry can be a lucrative business. In contrast to opening a physical store with high upfront costs, dropshipping jewelry can provide all the benefits of a retail business without the initial investment. So, gear up and start planning your jewelry dropshipping business!
The Advantages of Running a Dropship Jewelry Store
If you're thinking about starting a Shopify jewelry business but don't have much money to invest? Running a dropship jewelry store might just be the answer! Here are some advantages that can help you see why:
You can offer trendy and popular products:
With dropshipping, you can offer a wide range of jewelry products to your customers without the need to buy and store inventory. This means you can easily keep up with the latest trends and offer popular items.

Low upfront investment:
Starting a traditional jewelry store can be expensive due to the cost of buying and storing inventory. However, with dropshipping, you can start your business with lower upfront costs and minimal risks.

Low subscription costs and free trials:
Many reputable dropshipping companies offer low subscription costs and free trials, making it easier for you to get started and test the waters.

High-profit margins:
Dropshipping jewelry offers low wholesale prices and access to countless profitable sub-niches. This means that you can enjoy high-profit margins for your business.

Automation of tasks:
With dropshipping, tasks such as order fulfillment, packaging, and stock updates are automated. This means you can focus on the more important aspects of growing and scaling your business, such as marketing and customer service.

Scalability:
Dropshipping allows you to easily scale your business and meet customer demands without worrying about the logistics of buying and storing inventory.
As you can see, dropshipping jewelry offers many advantages that can help you start and grow your jewelry business. So why not give it a try and see what opportunities await you?
Is dropshipping jewelry a good idea?
We listed some of the advantages of dropshipping jewelry, however if you are still wondering if dropshipping jewelry is worth your time and effort?
Well, let me tell you, it's a booming business in the world of e-commerce! Jewelry is one of the leading categories offered by dropshipping companies worldwide. And if you're looking for a profitable business venture, the profit margin for jewelry dropshipping in the US is only getting better.
The best part about dropshipping jewelry is that there are so many niche categories and options for for you to create a brand around. From trendy earrings to timeless necklaces, the possibilities are endless. However, it's crucial to check with your jewelry dropshipping supplier about providing authenticity certificates for precious metals and stones. After all, you want to build trust with your customers and ensure they're getting what they paid for.
With the ever-growing world of e-commerce dropshipping is a great idea for anyone looking to start their own jewelry business without breaking the bank. It's a low-risk and low-investment way to get started and potentially make a lot of profit.
How to Start Your Own Dropship Jewelry Store on Shopify
If you're ready to get started, in this brief guide, we'll show you how to quickly set up a dropship jewelry store on Shopify.
Step 1: Find Your Niche
It's important to first find a niche. This means identifying a specific type of jewelry that you want to focus on selling. By selecting a niche, you can better target your audience and offer specialized products. knowing your niche will also help you with your supplier search.
To identify a niche, look for popular and trending items in the jewelry market. You can also check out trusted supplier networks to see what items are most popular and favorited. Keep in mind delivery times and the lowest and highest prices for jewelry merchandise to ensure maximum profitability.
Step 2: Sign Up for Shopify
To start your dropship jewelry store on Shopify, you'll need to sign up for a free trial. With Shopify, you can easily create an online store and integrate it with your dropship supplier.
Step 3: Find the Right Dropship Supplier
When selecting a dropship supplier, consider factors like price, delivery times, and product selection. You can use our list below to research and contact potential suppliers.
Popular options include AliExpress and Jgoodin, which offer discounted prices on jewelry and even free shipping. However, it's vital to check the specialist jewelery dropshiping suppliers too. When adding a suppliers jewelry to your store, be sure to take advantage of any marketing materials they provide to help promote your products.
Step 4: Start Promoting and Selling
Once you've set up your online store and partnered with a reliable dropship supplier, it's time to start promoting and selling your products. This can be done via social media and paid advertising.
Make sure to also learn about the whole dropshipping process and use a reliable shipping method like UPS Express to ensure timely delivery. With a little effort and the right partners, your dropship jewelry store can thrive.
How to Find the Best Dropshipping Jewelry Suppliers in 2023
The world of e-commerce is constantly evolving, and dropshipping jewelry is a niche that's booming right now. Customers have an insatiable appetite for the latest fashion trends, so there's always a demand for high-quality jewelry. But, finding a reliable supplier can be a tricky task. That's why we've put together some tips to help you find the best dropshipping jewelry supplier for your business.
Why Jewelry is a Profitable Business Niche
Jewelry is a profitable business niche to enter because of its fast-selling nature and significant growth. Entrepreneurs can start their dropshipping business with little or no risk, as there are plenty of esteemed dropshipping companies that serve the jewelry niche. These companies offer new arrivals, most popular, and bestselling items that can be dropshipped. This makes it easy for business owners to stock their stores with the latest products that are sure to sell.
Key Questions to Ask Your Jewelry Supplier
Before making a decision on a dropshipping jewelry supplier, there are some important questions you should consider asking. This will help you find a supplier that meets your specific needs and can provide the level of service you require. Some of the questions to ask include:
What is their return policy?
Make sure the supplier has a clear and reasonable return policy. You don't want to be stuck with unsold inventory or have to deal with unhappy customers.
Do they provide tracking information with orders?
Tracking information is essential for ensuring timely delivery and customer satisfaction. Make sure the supplier provides this service.
How fast do they ship orders?
In the world of e-commerce, speed is everything. Make sure the supplier can ship orders quickly to keep your customers happy.
Do they offer volume discounts?
If you plan on buying in bulk, it's important to know if the supplier offers volume discounts. This could save you a lot of money in the long run.
What payment methods do they accept?
Make sure the supplier accepts payment methods that work for you and your customers.
Do they have any minimum order requirements?
Some suppliers have minimum order requirements, which could be a dealbreaker for small businesses. Make sure you know the supplier's policies before committing.
Finding the right dropshipping jewelry supplier can take some time, but it's worth the effort to ensure the success of your business. Research multiple suppliers, compare their offerings, and ask the right questions to find the best fit for your needs. With careful consideration, you'll be able to find a reliable supplier that provides quality products and excellent service.
Our Favorite Dropshipping Jewelry Suppliers
To help get you started on your way we've done some of the legwork for you and listed here some of our favorite suppliers. Be sure to also do your due diligence and ask questions of your supplier to make sure they are a good fit for your business in terms of product ranges, product quality, shipping and customer service.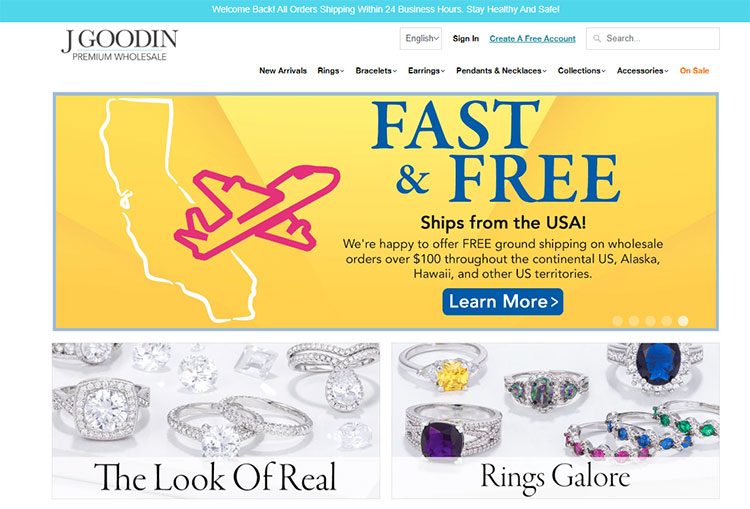 Looking for a reliable supplier of fashion jewelry that offers both wholesale and dropshipping options? Look no further than Goodin.com! They specialize in CZ jewelry, which is made of man-made zirconium dioxide and has a sparkling diamond-like appearance that's sure to catch the eye.
Their product lines are extensive and include everything from rings and bracelets to earrings, necklaces, pendants, and accessories. Plus, with the option to buy wholesale or use their dropship jewelry program, it's easy to get the products you need to grow your business. So why wait? Check out Goodin.com today and start offering stunning CZ jewelry to your customers!
Pros:
Ease of Dropshipping: The dropshipping process with J Goodin is streamlined and user-friendly. They handle shipping directly to customers, providing marketing materials like photos and descriptions for the website, making it easier to focus on business marketing​​.
Ordering and Payment Flexibility: J Goodin offers two convenient options for placing drop ship orders. You can order directly from their website or use an order template option via email. They also offer blind drop shipping, using your return address and company name on packages​​.
Packaging Quality: The standard packaging provided is of good quality, adding value to customer purchases, although the packaging style may vary based on supplier availability​​.
Comprehensive Product Feed: They provide a detailed product feed in CSV format, which includes specifications, prices, and images for each product. This is extremely helpful for keeping the online store up-to-date​​.
Cons:
Inventory Management: Since J Goodin controls the inventory, there might be instances of products being discontinued or going out of stock, which requires regular checking of their data feed to ensure accurate inventory levels​​.
Packaging Customization: The lack of specific branding on the standard packaging may be a limitation for businesses looking to establish a distinct brand identity​​.
Key Questions Answered
Minimum Order Requirements:
Payment Methods:

J Goodin accepts various payment methods including Amazon payments, American Express, Apple Pay, Diners Club, Discover, Facebook Pay, Google Pay, MasterCard, PayPal, Shopify Pay, Venmo, and Visa​​.

Volume Discounts:
Shipping Speed:

Orders placed before 10 am PST typically are shipped the same day, while those received after this time are usually shipped the next day. The company ensures that orders are processed and shipped within 48 hours of receipt of the order form. They also provide tracking information via email once the order is shipped​​​​.

Tracking Information:
Returns Policy:

Returns must be made within 30 days from the invoice date. To initiate a return, customers need to obtain a Return Merchandise Authorization Number (RMA) by contacting J Goodin. It's important not to mail back returns without an RMA number, as packages without it will be refused.
Conclusion:
Overall, J Goodin's Dropship Program is a beneficial solution for businesses looking to sell jewelry online without the hassle of inventory management. The ease of use, quality packaging, and comprehensive product feeds are major advantages.
While there are some limitations regarding inventory control and packaging customization, these are minor compared to the benefits of the program. J Goodin's Dropship Program is a solution for business owners looking for a reliable and efficient way to expand their jewelry offerings online.
---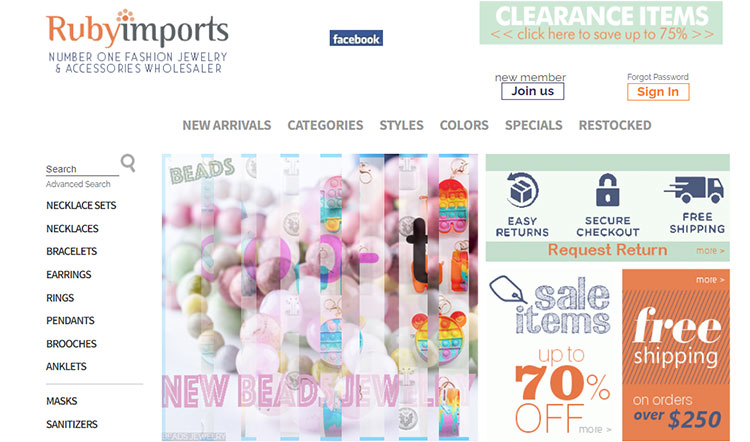 Ruby Imports: Your One-Stop Shop for Fashion and Accessories
Looking for a reliable jewelry wholesaler and dropshipper? Look no further than Ruby Imports! As a family-owned business based in Memphis, TN, they are committed to providing the best value and customer experience in the industry.
Their extensive product line includes necklaces, bracelets, earrings, rings, pendants, brooches, anklets, watches, and even apparel items such as bags, hair accessories, belts, scarfs, and sunglasses. Whatever your fashion needs, Ruby Imports has got you covered.
But that's not all. Ruby Imports also offers special deals like the "Sale of the Week," off-season sales, and clearance specials to help you save even more on their already low prices. Plus, with their dropship jewelry program, you can start your own business with little to no risk.
So why wait? Browse their selection today and see why Ruby Imports is the go-to supplier for fashion and accessories!
---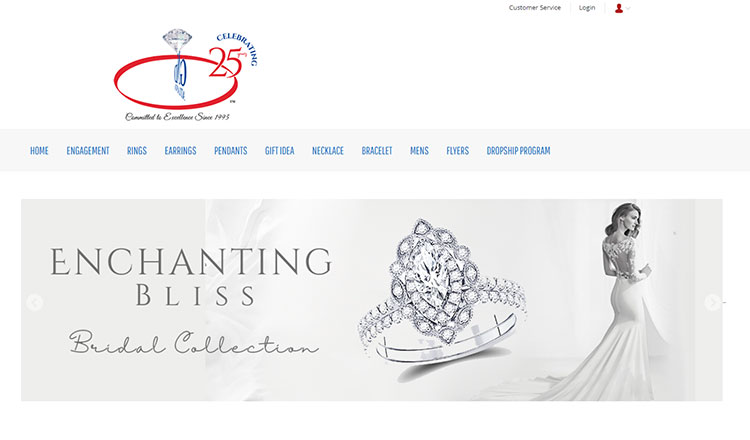 If you're looking for high-quality traditional fine jewelry and diamonds, Gold N Diamonds might be the perfect wholesaler and dropshipping supplier for you. They've been around since 1995 and are located in Atlanta, Georgia, USA.
With a large inventory that covers all the usual jewelry product categories, such as engagement rings, earrings, pendants, necklaces, bracelets, charms, fashion jewelry, and even a men's jewelry category, you'll be sure to find something that suits your customers' needs.
While they do offer a dropship program, it's important to note that it's limited to established online stores only, with a minimum of $50,000 in sales to qualify. So if you're just starting out with a new Shopify store, this may not be the right fit for you. But if you meet their requirements, Gold N Diamonds could be the perfect partner for your business.
---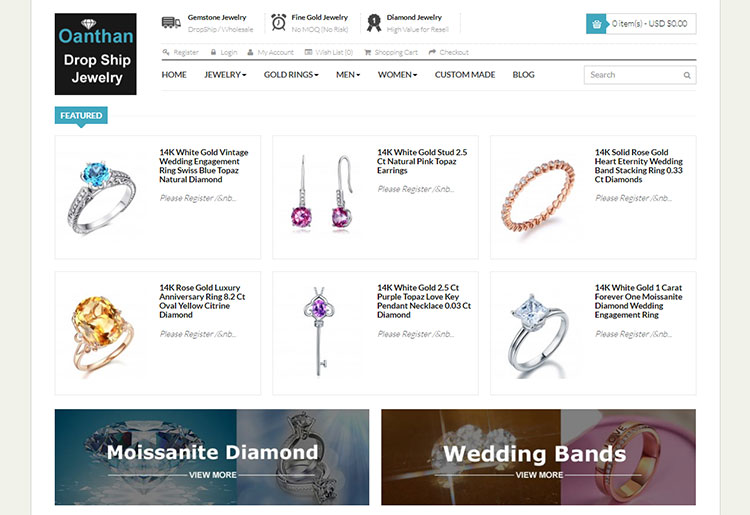 Want your own Shopify jewelry store but don't want to deal with the hassle of inventory management? Look no further than Oanthan Jewelry, your 100% dropship jewelry supplier. While they also offer wholesale purchasing options, their primary focus is on providing a seamless dropship service for Shopify stores.
Their product line specializes in rings, with a fantastic selection of 14k and 18k White Gold, Rose Gold, and traditional Yellow Gold. Don't let their Hong Kong location worry you – they ship internationally from warehouses in the United States, United Kingdom, and Hong Kong.
All of Oanthan Jewelry's pieces are handmade to order, ensuring the highest level of quality and attention to detail. Keep in mind that because of this, orders can take up to 14 days to arrive. So if you're ready to start your Shopify store without any inventory stress, Oanthan Jewelry is the perfect partner for you.
---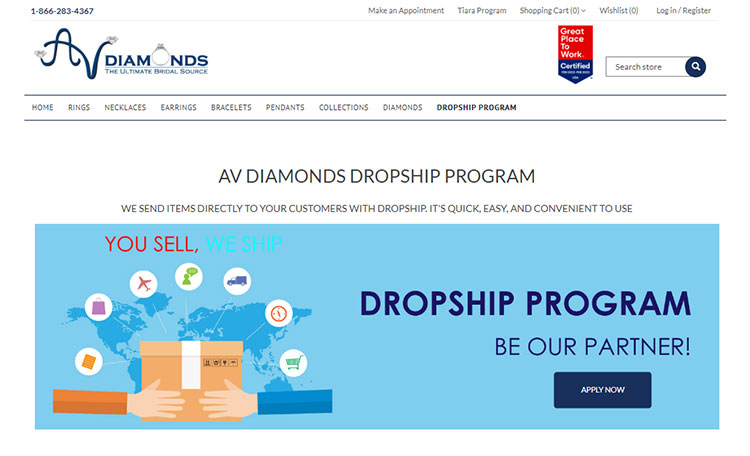 AV Diamonds is a jewelry manufacturer and wholesaler that specializes in traditional fine jewelry, with a particular focus on diamonds. They have manufacturing facilities in both India and China, which allows them to offer competitive prices and maintain high inventory levels. Their extensive product line includes Rings, Necklaces, Bracelets, Earrings, Pendants, and Diamonds. They also offer a wide range of designer collections, so you can easily find matching pieces to stock in your Shopify jewelry store.
In addition to their wholesale program, AV Diamonds recently introduced a dropship program with over 5000 products available. They cater to all levels of demand, from individual orders to large volume purchases, and are committed to providing exceptional service to their customers. If you're looking for unique items to add to your Shopify jewelry store, AV Diamonds is a great option to consider.
---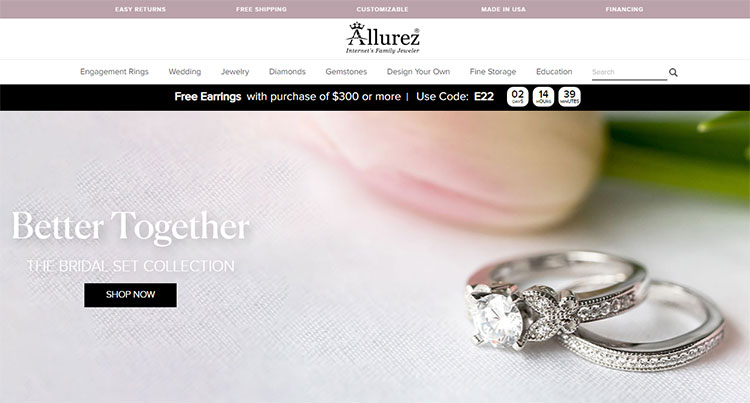 Allurez Jewelry is a New York-based American company that prides itself on delivering quality and value. They design, manufacture, and sell their own products, allowing them to eliminate any middlemen and pass on the savings to their customers in the form of better value products.
Founded in 2010, Allurez has built a reputation for providing exceptional customer service, and they offer a dropshipping program that allows stores of all sizes to access their quality products.
Whether you're buying one item or 100, you can be assured of receiving first-class service and products. Allurez also provides product images for your Shopify store, making it easy to feature their products and enhance your online jewelry business.
---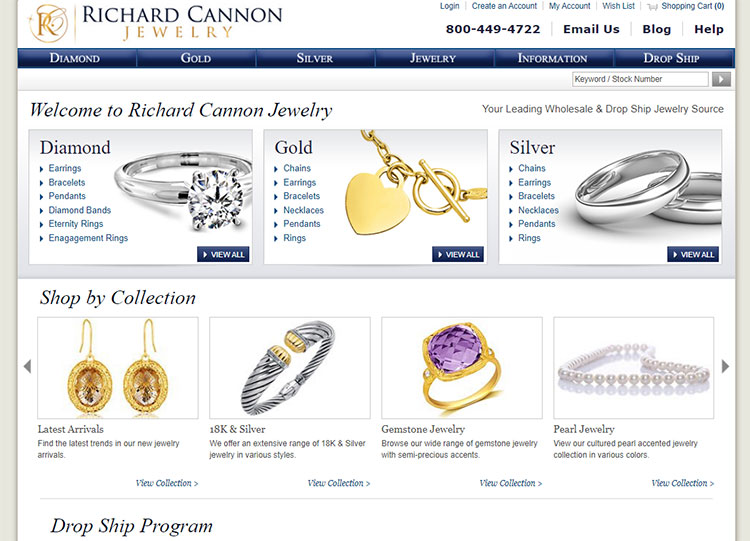 RC Jewelry is a reputable dropshipping Jewelry supplier that operates from Maywood, New Jersey, United States. They offer an extensive range of high-quality products on their easy-to-navigate website. Their product line includes diamonds, gold, and silver, with a wide selection of jewelry items, including rings, earrings, pendants, bracelets, necklaces, and chains.
The best part is that there are no additional fees associated with their dropship program, and both new and established Shopify stores are welcome to use their services. Whether you're looking to buy a single item or multiple items, R C Jewelry provides the same level of excellent service and top-quality products. So, why not take advantage of their efficient dropship program and elevate your jewelry business today?
---
Conclusion
That's it for our list of the best dropshipping jewelry suppliers. Do you know of any other great sources? Let us know in the comments below. If you're thinking of building a shopify jewelry store then check-out this list of shopify jewelry stores for inspiration
Thanks for reading!
---