The Best Dropshipping Jewelry Suppliers
Dropshipping jewelry is a great way to start your own online business with little up-front investment. But, like any other ecommerce business, sourcing products can be a challenge.
Jewelry can be a great addition to your Shopify store. It's a popular product with lots of variety that people are always looking to buy, plus it's typically something that people will buy for emotional reasons and we love emotional buyers don't we? So building a Shopify jewelry store is always attractive to entrepreneurs
When you're looking for dropshipping jewelry suppliers, it's important to find ones that offer products that are unique and of good quality. This will help set your store apart from the competition and increase your sales.
The Advantages Of Dropshipping Jewelry
There are many advantages to selling jewelry online. The main one is that it's very popular and has a high demand. But from a practical point dropshipping jewelry removes you from the security risk of owning high value products. Another advantage is the shipping is relatively cheap and the packages small which means faster shipping and delivery times, as a result this leads to better customer satisfaction.
The disadvantage is because jewelry is so popular there is a large amount of competition. The larger competitors will undercut your prices making it difficult for you. This is more true on platforms such as Amazon and eBay. Therefore it's important to make sure you find unique items, custom made or offer the higher priced items where there's less competition and higher margins.
Our Favorite Dropshipping Jewelry Suppliers
If you're looking for jewelry suppliers for your Shopify store, look no further. In this blog post, we'll list some of our favorite dropshipping jewelry suppliers for you to consider.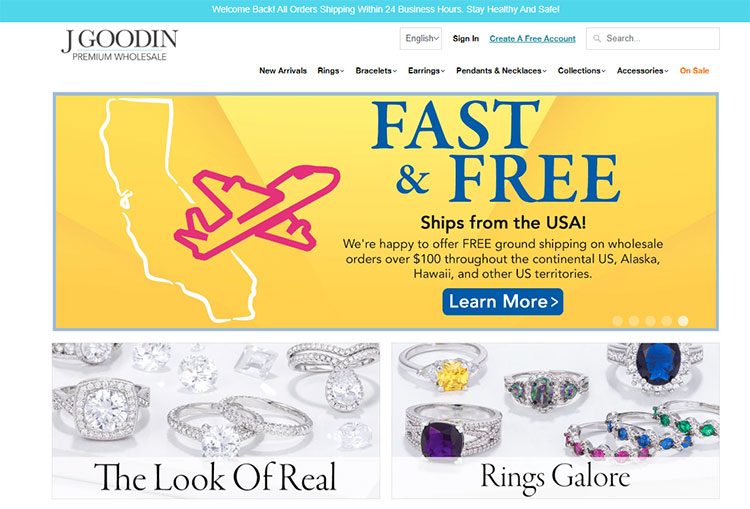 Jgoodin.com are wholesale and dropshipping suppliers of fashion jewelry with a focus on CZ products. What is CZ jewelry? CZ stands for Cubic zirconia it's a manmade mineral made of zirconium dioxide. To the untrained eye they look like and sparkle like diamonds.
Their product lines consists of Rings, Bracelets, Earrings, Necklaces, Pendants and accessories. you can choose to buy wholesale or use their dropship jewelry program.
---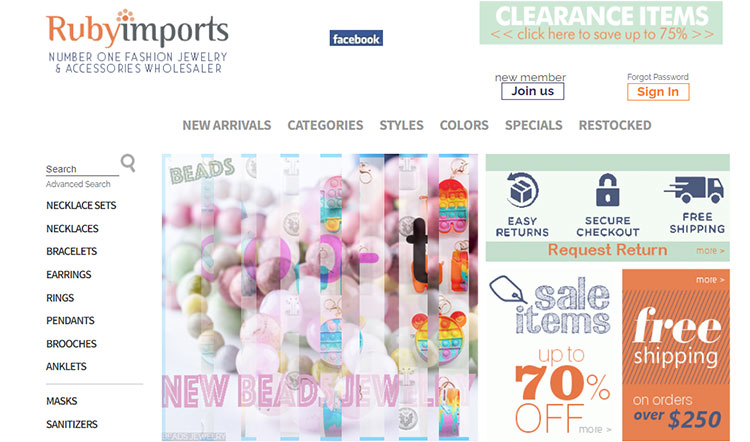 Ruby Imports is a jewelry wholesaler and dropshipper. They are a family owned business operating out of Memphis. TN United States. They pride themselves on their customer experience with a focus on low prices and best value. Their product categories are: Necklaces, Bracelets, earrings, Rings, Pendants, brooches, Anklets and watches. They also have apparel lines consisting of Bags, Hair accessories, Belts, Scarfs and Sunglasses. In addition to their regular product offers they also run special offers such as sale of the week, off season sales and clearance specials.
---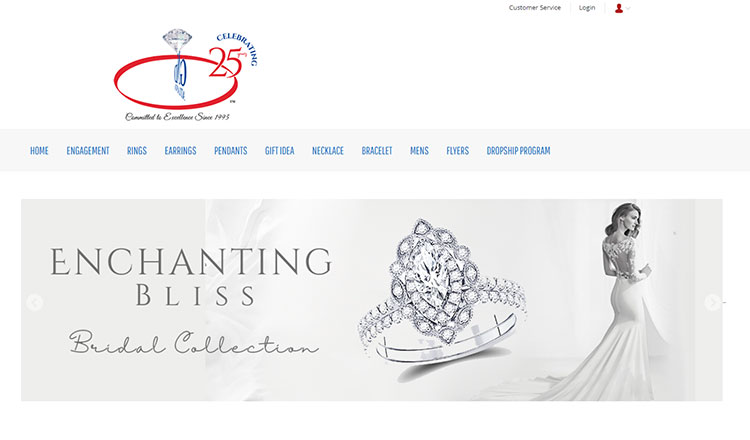 Gold N Diamonds was established in 1995 and is located in Atlanta, Georgia, USA. They are wholesalers and dropshipping suppliers of traditional fine jewelry and diamonds. They have a large inventory with all the usual jewelry product categories, like; Engagements, Rings, Earrings, Pendants, Necklaces, Bracelets, Charms, Fashion jewelry and a men's jewelry category.
They have a dropship program however it's limited to established online stores only with sales of 50k or above to qualify. So this is not for new shopify stores with no sales.
---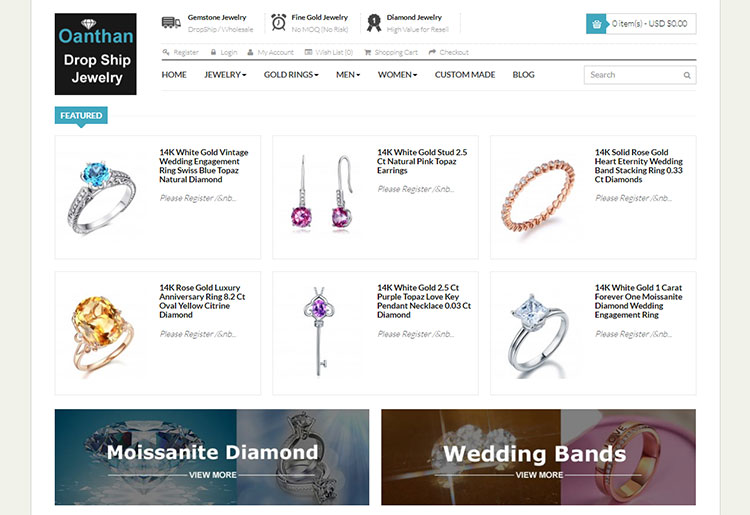 Oanthan Jewelry is a 100% dropship jewelry supplier and they will also sell you products wholesale. However their main focus is offering a dropship service for Shopify Jewelery stores. The majority of their product line is rings with a good selection of 14k and 18k White Gold, and Rose Gold together with the traditional Yellow Gold. Although they are based in Hong Kong don't let this put you off because they ship internationally from warehouses in the United States, United Kingdom and Hong Kong. All their jewelry is handmade to order and can take up to 14 days for orders to arrive.
---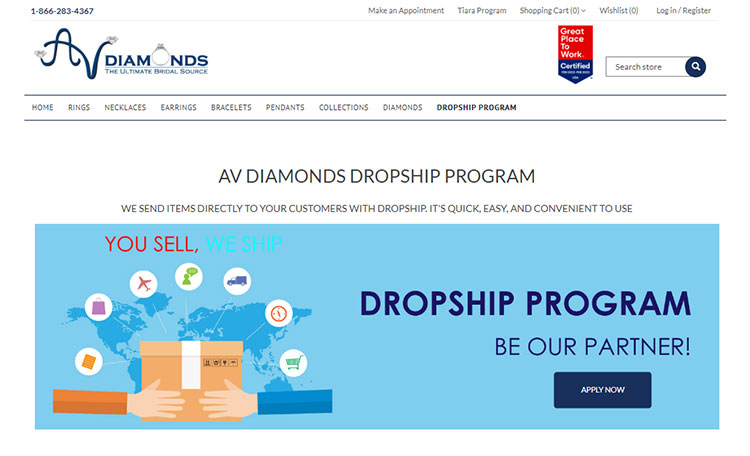 AV Diamonds are manufacturers and wholesalers of traditional fine jewelry with the emphasis on diamonds. With manufacturing plants in both India and China you can be assured of value prices and large inventory levels. Their product lines consists of Rings, Necklaces, Bracelets, Earrings, Pendants and Diamonds. In addition they have a wide range of designer collections so you can get matching items together. Up until recently they were suppling retail stores but now they also have a dropship program offering over 5000 products. you can order one item or a million and they're happy to serve you. You'll easily find unique items for you Shopify jewelry store here.
---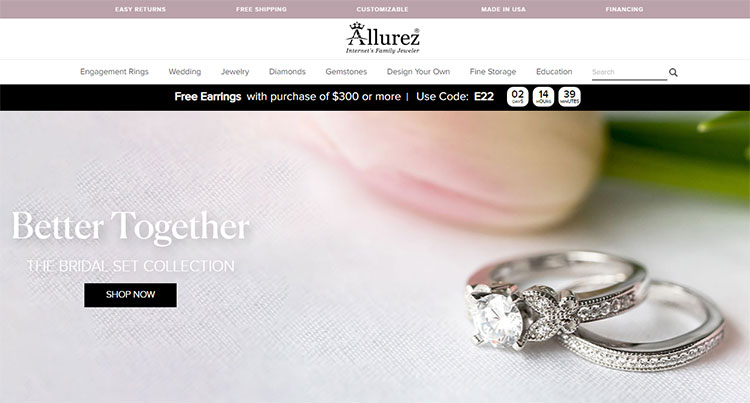 Allurez jewelry is an American company which prides it's self on quality and value. They design, manufacture and sell their own products thus cutting out any middlemen. All the savings are then passed on to the customers by way of better value products. They were founded in 2010 and are located in New York, United States. As with most dropshipping Jewelry suppliers Allurez will provide you with product images for your Shopify store. Stores of all sizes are welcome to use their dropship program and regardless of buying one item or 100 items you'll still get the same first class service and quality products.
---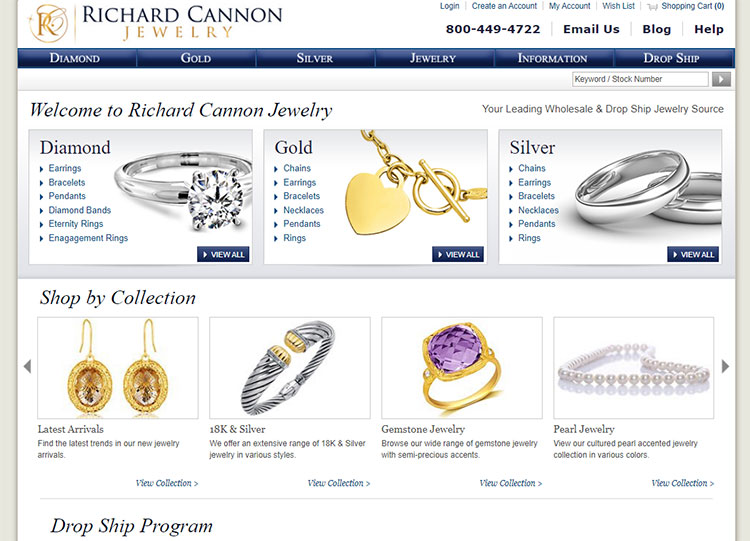 R C Jewelry is a dropshipping Jewelry supplier located in Maywood, New Jersey, United States. They have an extensive product line and easy to use website. The main categories are Diamonds, Gold And silver with all the usual categories such as Rings, Earrings, Pendants, Bracelets, Necklaces and Chains listed below. There are no additional fees to use their dropship program and new Shopify stores are welcome along with established stores. You can buy single items and there's no minimum order quantity.
---
Conclusion
That's it for our list of the best dropshipping jewelry suppliers. Do you know of any other great sources? Let us know in the comments below. And, if you're looking to add some beautiful pieces of jewelry to your store, be sure to check out these suppliers. Alternatively if you're thinking of building a shopify jewelry store then this is your list of suppliers right here.
Thanks for reading!
---