The Best Print On Demand Sites For Artists & Designers (POD)
Print On demand is now a way of life – everything is on demand now and that includes our clothing. Technology has now advanced to the point where talented artists or designers can make lots of different products that's completely one of a kind.
Selling their art  and design online means that artists are getting exposure that they wouldn't otherwise get. It also means that they can sell their art to thousands of people all across the globe.
What Is Print On Demand (POD)?
Print-on-demand (POD) is a printing and business process in which printable items are not printed until the company receives an order. The most popular POD items over the last few years are T-Shirts and Coffee mugs. POD allows for the printing of small quantities or even single items which would otherwise be uneconomical to produce with traditional printing methods such as letterpress and offset printing.
Print On Demand T-Shirts
Printed T shirts are so popular because people love to have clothing which expresses their individuality. And what better way to do this is there other than having custom designs printed on a variety of clothing and merchandise. It is so simple to do too. The artists can put up their work for a price that they choose.
The customer can choose which design they want, which product they want it on and then place their order. The POD company then prints the design on the merchandise and ships it out to the customer. The simplicity of it, is another reason that makes it so popular. People can have their unique designs in a matter of days.
If you're interested in having your own designs printed on t-shirts and other merchandise then read this list for the Top 10  Print On Demand Websites.
A List Of The Best Print On Demand (POD) Websites
Redbubble is perhaps one of the best print on demand sites, and it's easy to see why. Anyone can submit their artwork which means you get some really diverse art and some really unique pieces. The site itself receives consistently heavy traffic and is rated among the top print on demand sites out there.
There are a wide variety of items available on Redbubble, which probably contributes to its popularity. There are t-shirts in a variety of styles, dresses, hoodies, bags, hats, scarves, stickers and smartphone cases. This is just the tip, as there are many more different things available!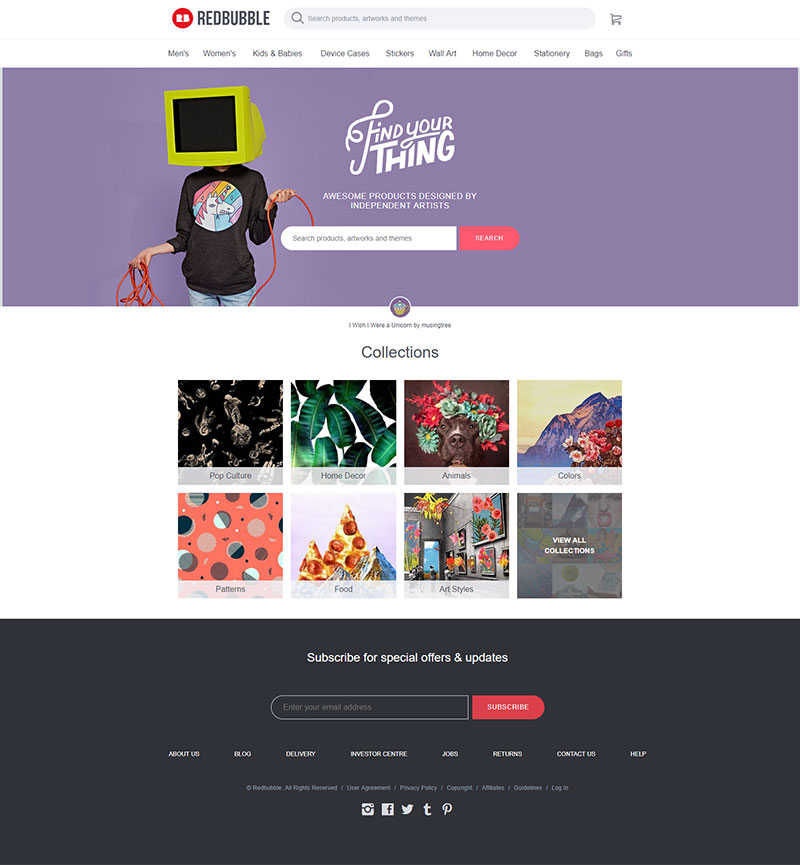 Teespring is a great site which allows people to create their own designs and sell them on as their own merchandise. Or you can choose to upload you own design and create custom apparel. You can choose the sizing and quantity of your clothing and have it delivered straight to you.
One of the different things about Teespring is how they run campaigns for your clothing. The site makes you set a sales goal, which you then should try and hit. However, you don't have to reach this sales goal in order for them to print you product. As long as you make a profit on your design then they will print it. Some people don't like this, as it puts some pressure on them. But for those who are looking to make money then this is great for them.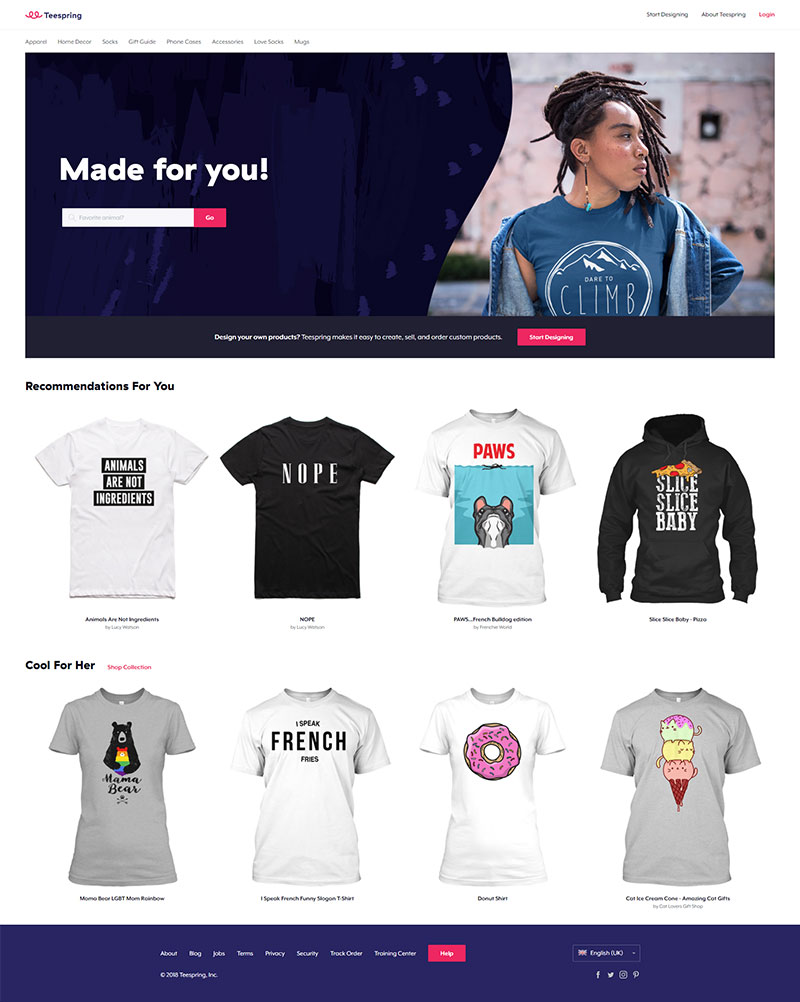 Another fairly popular print on demand site is Spreadshirt. This site has over 100 unique products for customers to buy and sell. They have sold over 20 million items already even though they are still relatively young.
If you're looking for a part time job option, then you should consider selling your designs via Spreadshirt. The way this works is that you earn your price with each sale. So the more you sell, the more you make. This is a good option for those who don't have the time to do their own marketing – as Spreadshirt will do this for you. There is a second option which is where you have your own shop – but obviously this is much more work, so only for those who want to make it their full time career.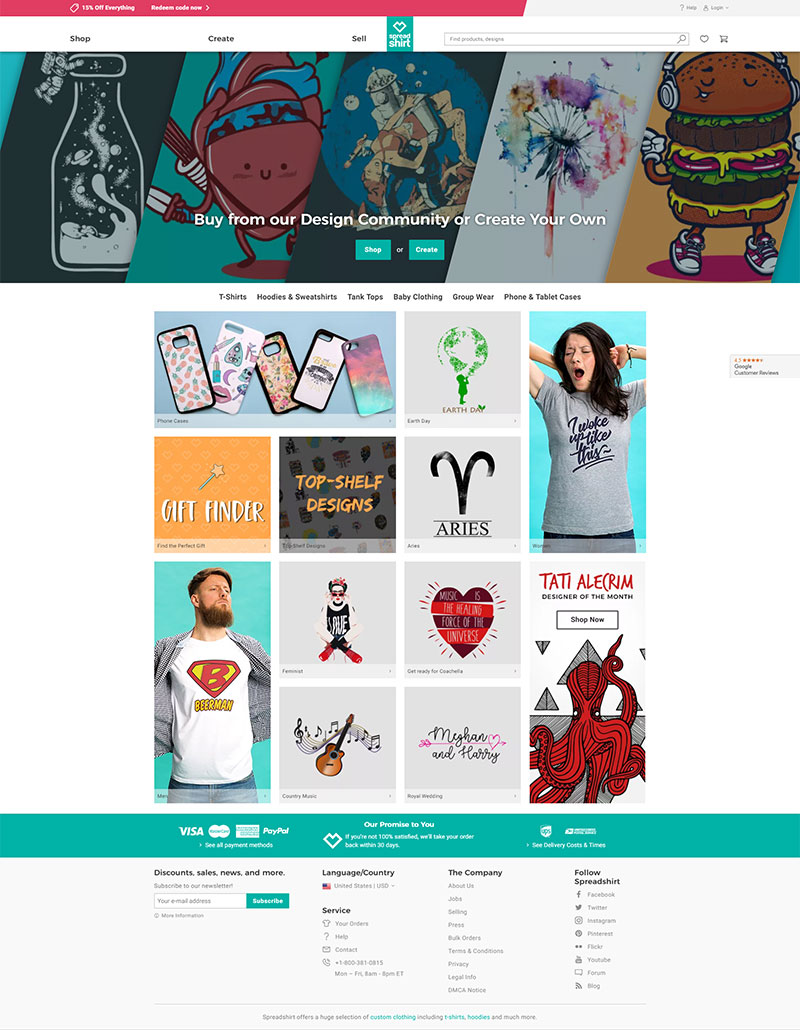 This site allows artists from everywhere in the world to upload to one communal marketplace. They can then sell their work as over 30 different kinds of merchandise. Their best seller is art prints – where you can get great quality prints of amazing and unique artworks.
As well as these prints, you can also get framed prints, canvasses, metal prints and stationary cards. Art is also available in a huge variety of other merchandise from clothing to bags, mugs to clocks and towels to notebooks. The best part about this site is the sheer amount of things you can have designs printed on – the only limit is your imagination.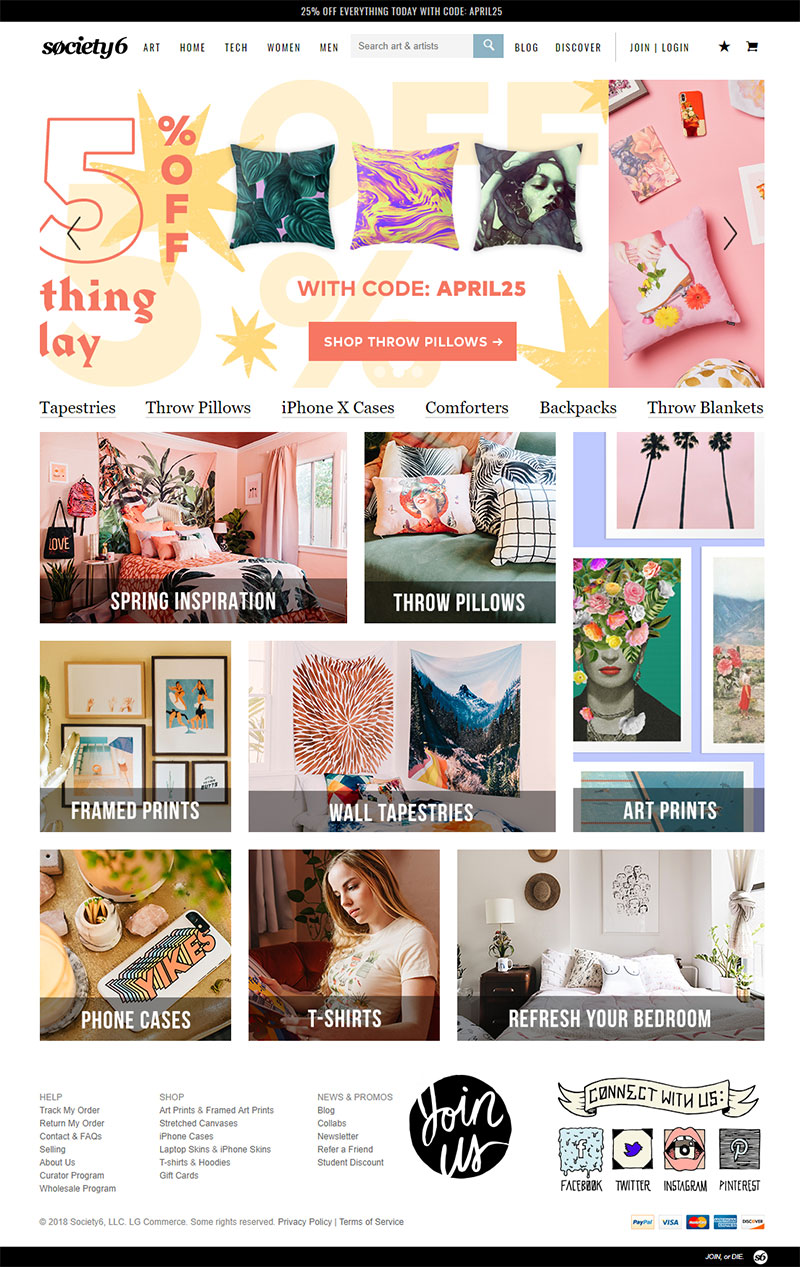 This print on demand site allows anyone to upload their artwork and sell it as a variety of apparel. One of the unique things about Teepublic is that you don't have to come up with your own designs to be a seller. You can become a partner and build your own store by choosing designs which already exist on the store.
T-shirts, children's clothes, hoodies, prints, mugs, notebooks and more is what you can expect your designs to be printed on. Every item that your design is printed on also comes in a variety of styles, making your design that bit more unique. The greatest things about Teepublic is the fact that all of the prices are standardised – meaning each item will cost the same across the whole store.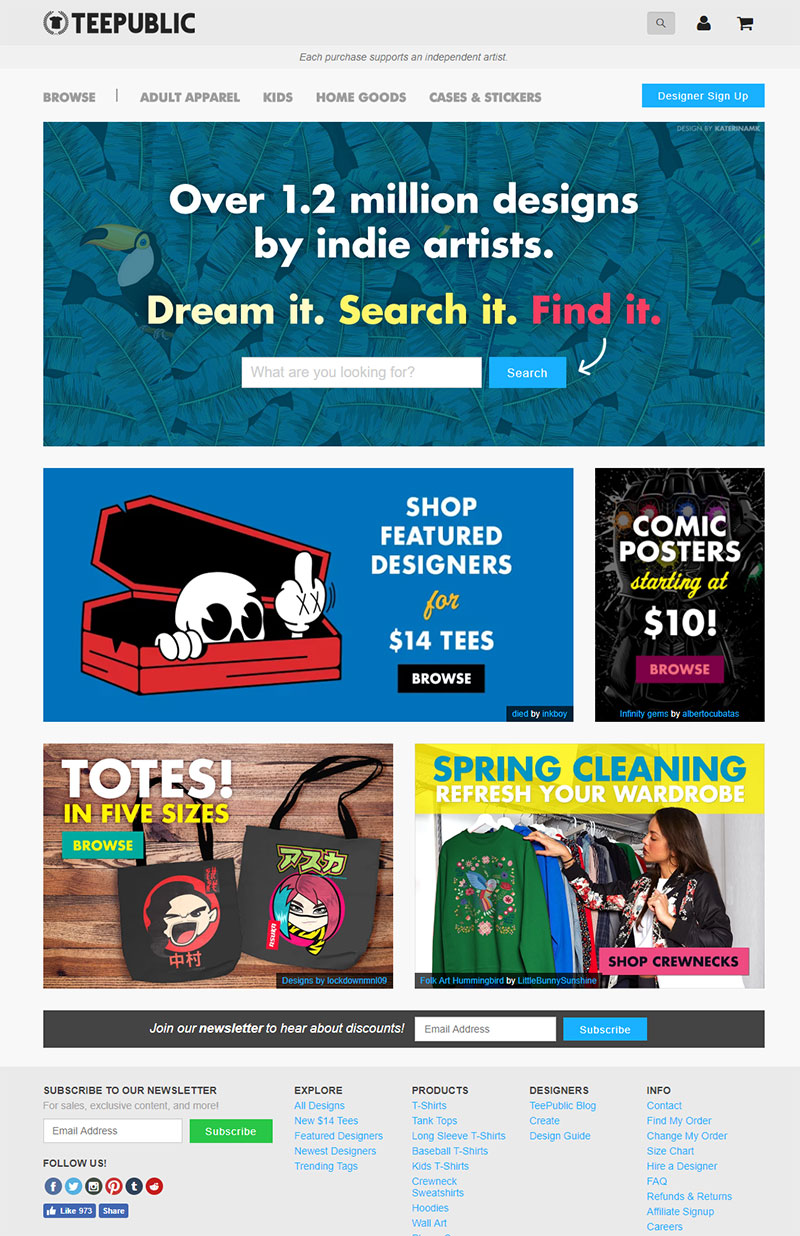 Here's an interesting fact for those looking to sell on print on demand sites. Independent artists made $1.5 million in the last year collectively. That's some serious selling right there. Everyone submits their designs, and once uploaded they become available to vote on. Only if a design is up voted enough will it become available to buy.
With Threadless, you can also come up with your own 'shop' designs. This means that your online marketplace can look really professional, even if it's part of a bigger company.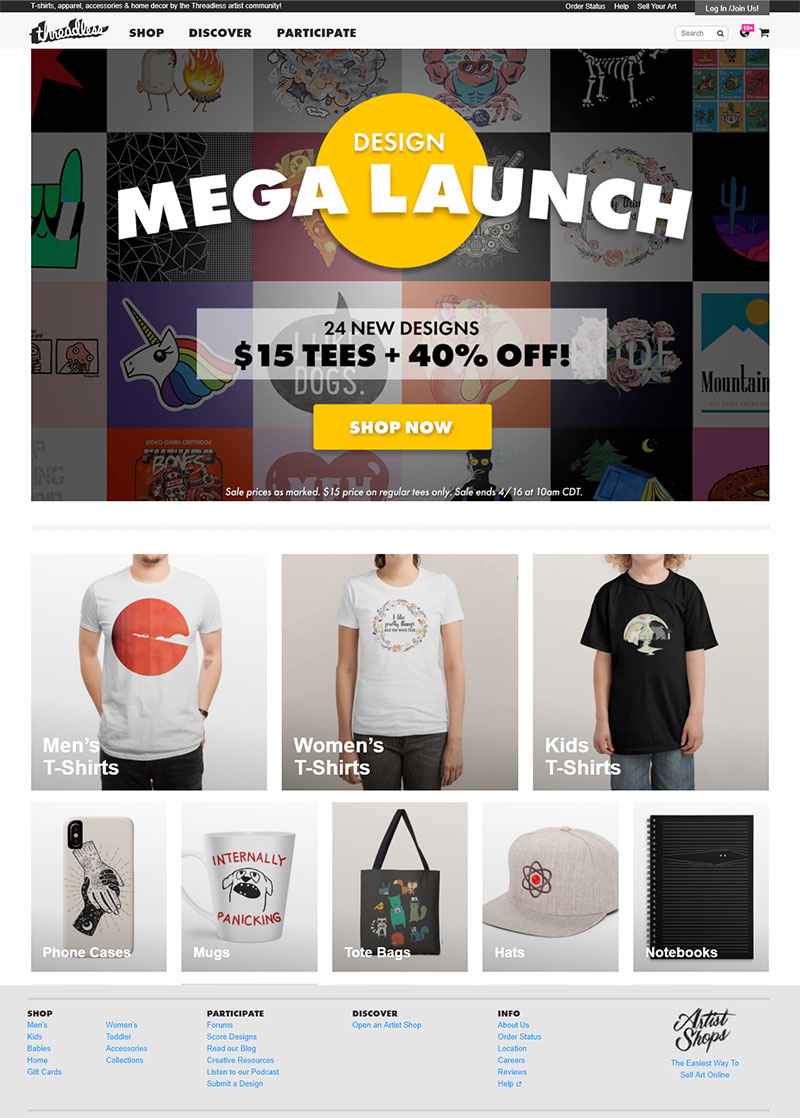 The greatest thing about Zazzle is its incredible customisation options. Each design can be printed on over 1300 items available on the marketplace. Not only that, but these designs can be further customised so your final product is as unique as you are.
Receiving over 30 million visitors each month means that this makes them pretty big in the print on demand game. On their site you can find designers selling their artwork and makers that will customise the product for you. If you're feeling really creative there are even templates to help you make your own from scratch.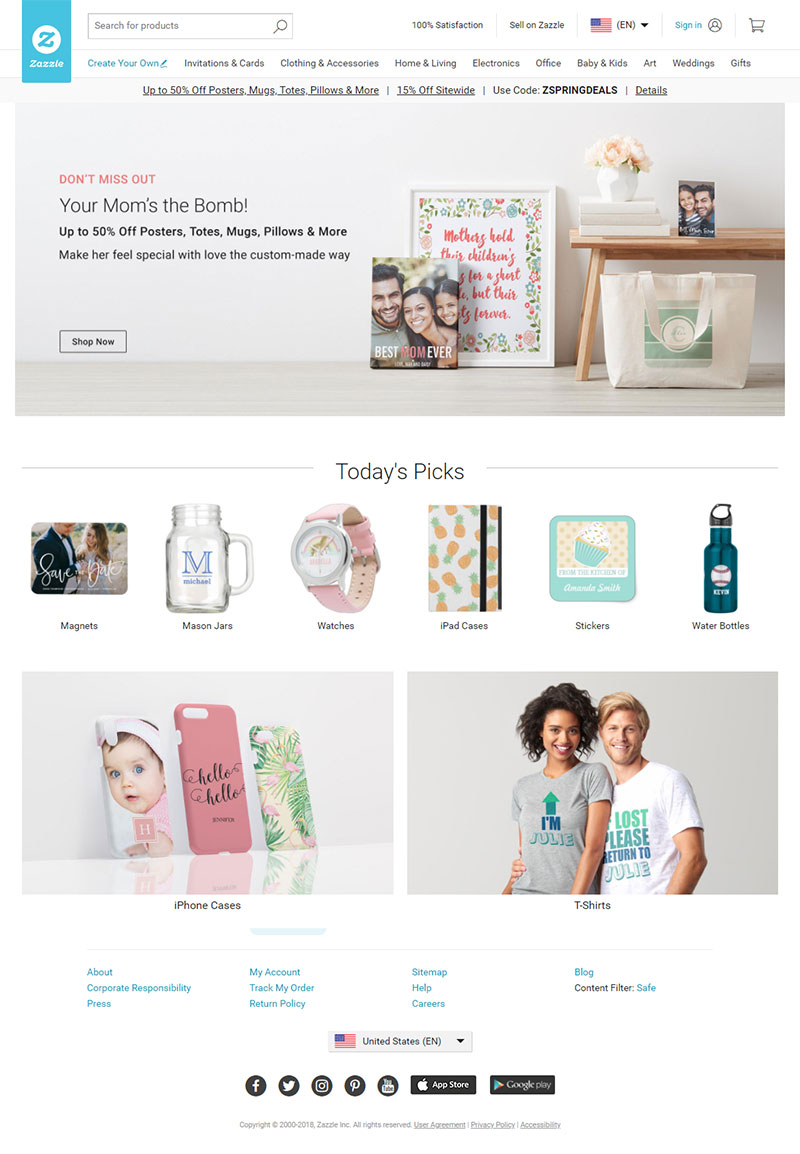 This simple but fun site is one of the best print on demand sites for pop culture junkies. They are affordable because they like to keep it simple. By only providing customers with a limited choice of apparel, there are able to keep their costs down.
For 24 hours, an artist's design will be available at a discounted price – and then it's gone forever. This is one of the reasons that people come back again and again, to try and find that perfect piece. Designs can be voted back into the marketplace but will not be available at a discounted rate.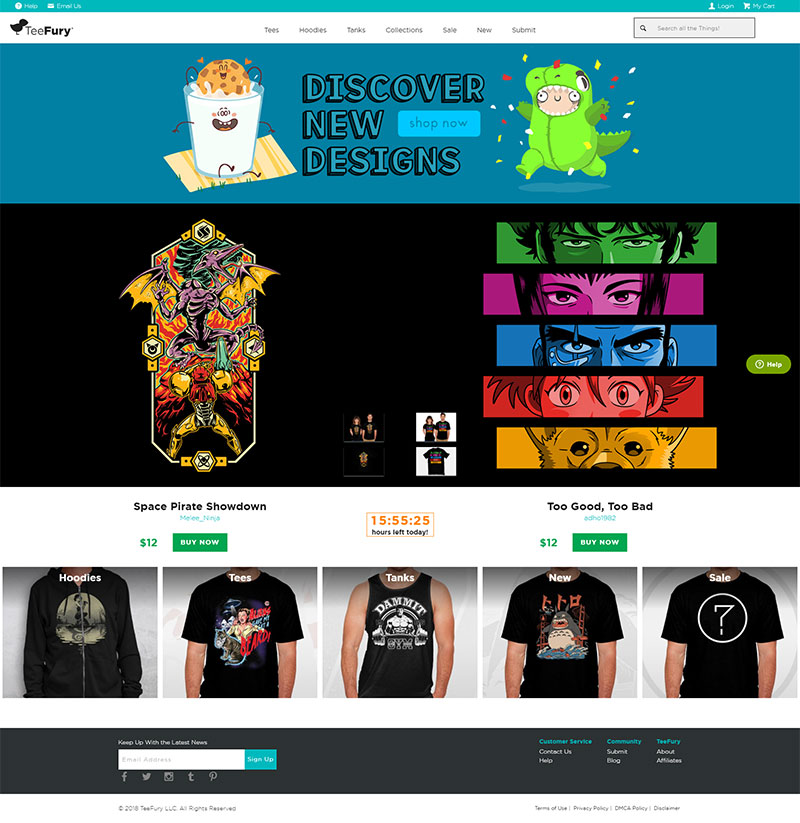 This is a site for the gamers and YouTubers out there. With fun quirky clothing related to just about everything on the internet you are bound to find something that you like. The designs uploaded here are really special and unique and they are constantly offering great deals to their customers.
There are shirt competitions every 24 hours, meaning that people who enter have a chance to win 6 free t-shirts and $1000. That's pretty cool. Each competition is usually themed, but be on the lookout for those which are open to all.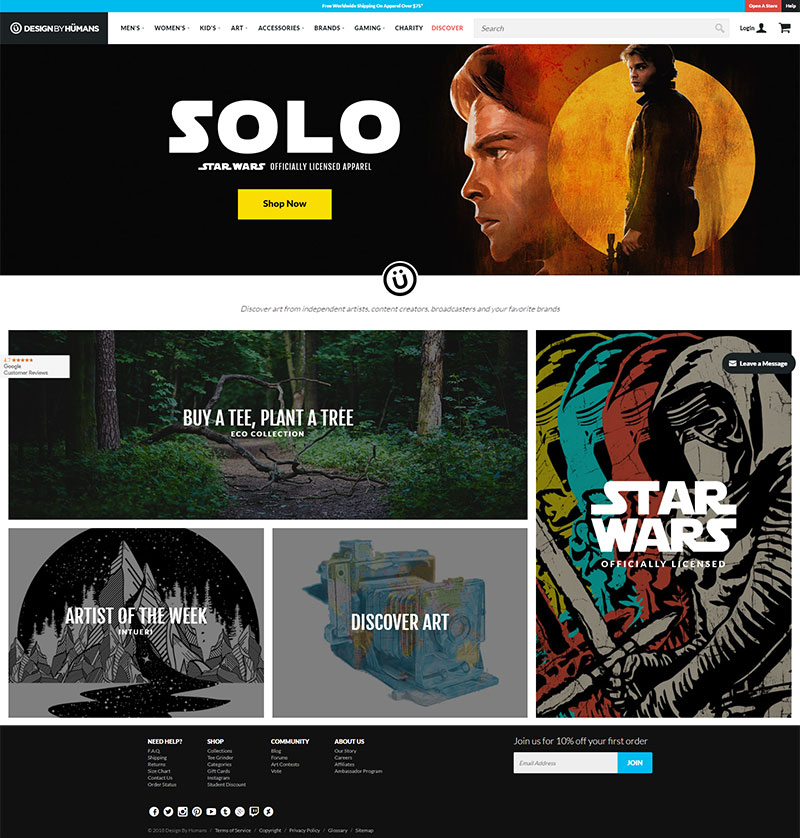 Last, but certainly not least is SunFrog. There are over 4 million items available on this site and they get the most traffic of any other place on this list. You can design and sell t-shirts, mugs, hoodies, posters, hats and so much more. Although printed in the US, everything can be shipped internationally.
You can choose different categories to be featured in, and there are so many different ones that you are sure to have your designs spotted by someone! The seller sets the price of their items and if they own the design as well they may well end up making 45.5% commission on each product!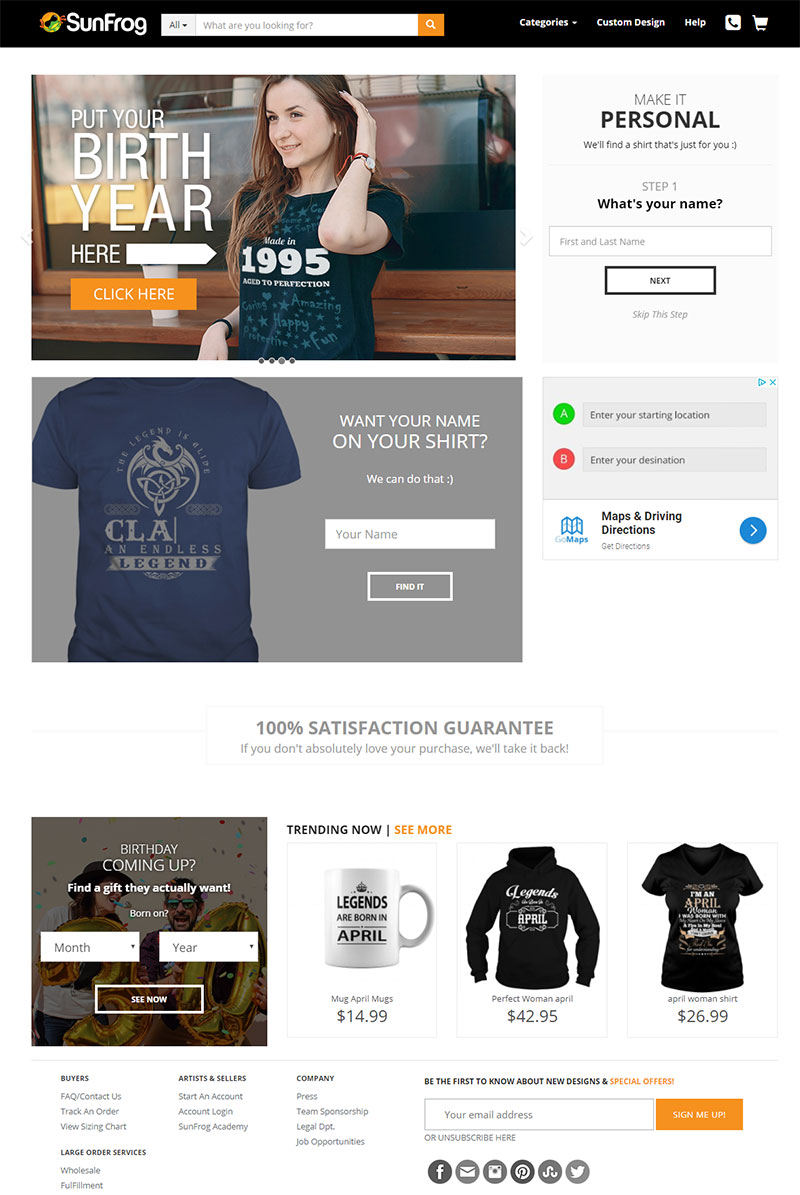 Conclusion
We think that the best print on demand sites are here to stay and from reading the above list you'll see why. There is so much choice available that you can really show off your own unique style. Not only this, but a number of these sites allow you to take your customisation one step further and make the product completely individual.
They are also a great way to show your support for local artists and encourage people to pursue their passions of designing and creating clothing and merchandise. By buying clothing designed by individuals you are helping them achieve their dream, instead of paying a fortune for mass-produced designs that everyone else is wearing. If you're a designer yourself, print on demand is a great way to get your talent noticed and a great way to kick start your career.
In a world where everyone is trying to stand out, using these print on demand sites is one sure fire way to make sure you get noticed.
This article is also suitable for those looking for:
The best print on demand sites for artists
and "best POD for artists and designers sites uk" and "best print on demand t shirt sites". If you're looking for "best print on demand Shopify" I'll write another article specifically for Shopify apps which integrate print on demand. The process is the same but some of the companies will differ, due to the integrations available.
I'd like to make this a top 20!
Do you know of any POD (Print On Demand) sites we should add to this top ten list of POD sites?
Did this article help in anyway?